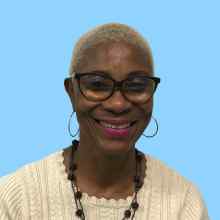 About Me
In 1991, I came to the United States to further my life and education. I began working as a caregiver, and I started to love it. I love talking with my clients and listening to their stories about their lives. I enjoy helping people and working with others. I understand my clients may need different levels of care. I know how to approach different people and it's a pleasure for me to do my work. I'm a fun-loving person and if my client is unhappy, I love to dance and sing to make them smile. I will sit with them, quiz them to see what's going on, and talk with them. I'm very kind and caring. I light up a room when I enter it and try to bring a lot of positive energy. When I have free time, I enjoy reading and shopping. I also enjoy my quiet time and relaxing when I can.
Recommendations
Velma was part of a team of caregivers we had hired to care for my mother. She worked with my mom from 2015 until June 2018. My mother used a wheelchair and her state of mind and mental capacity was decreasing. We needed the caregivers to take care of her physical needs. Velma would come in the morning and the evening to get my mother up and out of bed and put her back in bed. Velma worked very well with the other 24/7 people we hired. My mom really liked having Velma around. She's strong and very caring. She was really there for us when we needed her. The day before my mother passed, Velma came for her shift and she could tell that it was the end of my mother's life from her past experiences. She's very knowledgable and caring, and I recommend her highly.
- Paul K., New York
Velma filled in for our regular caregiver for from December 2015 through February 2016. From the moment she walked in the door, she was professional, very kind, and pleasant to be around. Mom has dementia and has not been the same since a bad fall 6 years ago. Velma worked 10 am to 10 pm every day and I was very pleased that she knew what to do without having to be told. She is self-reliant and it was wonderful that I could be at work and not have to worry. Mom and I live together, so I spent a good amount of time with Velma. I know Velma treated my mother the same when I was out as when I was home. Mom wasn't always easy, but Velma never lost her sense of humor and easy going manner. I would certainly recommend her without reservation.
- Andrea C., New York
Specialities
Advanced Dementia
ALS / Lou Gehrig's Disease
Alzheimer's
Bipolar
Blind
Cancer
Cardiac Condition
Catheter
Colostomy
Dementia
Depression
Diabetes
Feeding Tube
Hospice
Hoyer Lift
Mental Illness
Mobility
Multiple Sclerosis
Newborns
Oxygen
Paralysis
Parkinson's
Stroke
Trach
Degrees & Certificates
Nurse Aide/Assistant, Graduate
Phlebotomy and EKG Technician, Graduate
Certified Patient Care Associate, Graduate
Transportation to Job
Can Drive: Yes
Public Transportation: No
Car: Yes