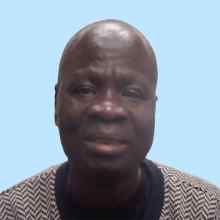 About Me
I am from Ghana and I have been a home health aide since 2014. I am willing to serve and do anything for my clients. I am loving and honest, and always do my job efficiently and fulfill my duties. I am very hardworking, I love my patients and clients, and I listen to their needs. I worked and lived with one client for 5 years. I would take him to the movies, would cook for him, go to the library, and take care of all of his needs. I am a good problem solver with him and provided him with what he needed, even though he was tough. He always said, "I love Isaac," and told me that I am wonderful and take good care of him. When I am not working, I like to visit my church and love to watch soccer.
Recommendations
Isaac was my father's 24/7 live-in caregiver from November 2014 until his passing on January 1, 2020. My father's health started to decline after my mother's passing in August 2014. My father had a chronic heart condition and then was diagnosed with spinal stenosis. After a 3-week hospitalization and then a stay in rehab, we had to move my father temporarily into an assisted living facility. We hired him to live at the facility with my father because we were retrofitting my father's house to accommodate his new medical equipment. After about 2 months at the facility, Isaac and my father moved back into my father's house. Initially, my father used a walker, but became more reliant on his wheelchair toward the end of his life. In his time with my father, Isaac did everything for him: Total assistance with activities of daily living, medication reminders, light housekeeping, laundry, and meal preparation. My father never allowed Isaac to feed him, but was open to driving him to rehab two days a week and to the local senior citizen library movie day on other days. My father was a very social person, and Isaac often took him out to breakfast, and would be part of the dinner arrangements when my brother's family or my family would go out to my father's house to visit. Isaac picked up on how important it was to keep my father engaged with others and made that a priority when going out into the community. During my father's challenging times, Isaac never took anything personally, and adapted to my father's changing emotions. Isaac was able to redirect situations, particularly if my father got frustrated because of dietary restrictions. As the family point person, Isaac always communicated with me wonderfully, and I always knew how my father's day was going. When we would visit, we always saw how happy, comfortable, well-groomed, and clean my father was. My father's personal appearance was of utmost importance to me, and Isaac went above and beyond to ensure that my father was always clean shaven, and that his hair and nails exceeded our standards. Isaac was also extremely reliable and trustworthy, and rarely took time off. I believe my father lived as long as he did in part due to Isaac's high quality of care, and I recommend him 100 percent without hesitation.
- Robin K., New York
In September 2014, we hired Isaac to live with my father for two months in preparation for dad's move to to live with my sister. Isaac was a wonderful caregiver. He worked hard and did everything we asked. Dad was starting to show signs of forgetfulness and had trouble walking and moving his arms. Isaac helped with showering, dressing and cooking. He's a very good cook. He occasionally used my car to drive my father, and there were never any problems. Our entire family loved him, and dad continued to ask for him after he moved. I confidently recommend him as an excellent caregiver.
- Huseini I., New York
Work Locations
Manhattan
Bronx
Brooklyn
Staten Island
Queens
Long Island
Westchester
Specialities
Advanced Dementia
Alzheimer's
Dementia
Depression
Diabetes
Hoyer Lift
Mobility
Stroke
Wounds
Dietary Specialities
Celiac
Diabetic
Gluten Free
Kosher
Liquid
Low-fat
No Salt
Puree
Vegan
Vegetarian
Degrees & Certificates
Home Health Aide, Licensed
Transportation to Job
Can Drive: Yes
Public Transportation: Yes
Car: Yes
Ready For Your
Free

Consultation?
CALL
Hours: 8am - 6pm x 7 days
(and after hours if you need us)
Serving Metro New York & Connecticut