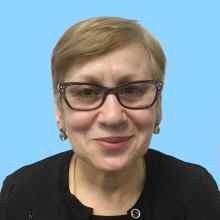 About Me
I was born and raised in the Republic of Georgia. I have a bachelor's degree in trade management and cooking. I managed a restaurant back in Georgia for more than 10 years. Later, I became a language specialist for 6 years and gave lessons to children. I came to the United States in 1998 and later became a caregiver in 2001. I feel better and happy when I am able to help or assist someone. I love this job because I am able to make my clients happy and comfortable. I am very honest, organized, lovely, caring, and neat. I am well experienced with patients with dementia, Alzheimer's, brain Injury, cancer, hospice, and many others. I also have experience with Kosher families. When I am working, I make sure I secure the safety of my patients, shower them when needed, make sure their medications are taken at the right time and also make sure they follow their providers' recommendations. In my spare time, I enjoy cooking, writing poetry, and love to walk in the park.
Recommendations
We are pleased to give Zaira the highest recommendation for employment in caring for a loved family member. She has all the skills, energy, warmth, and heart to excel in managing a household while providing outstanding care for your loved one. Zaira is a person of enormous integrity who cared for our mother from October 2010 until her death in March 2014. Mom required 24-hour constant care and observation and Zaira provided that tirelessly, with a positive attitude and full measure of her skills and love during our mom's long and debilitating illness and challenging dementia. Zaira is a trustworthy, creative, kind, loving, nurturing, and intelligent person. She took her job so seriously that she would call on her day off to make sure there were no problems. Zaira is an extremely industrious and competent person. She was unable to sit still if she saw something that could be done in the house, or to benefit our mother in any way. She performed all household tasks such as cooking, cleaning, laundry, etc. She expertly dressed our mother's wounds, took care of her hygiene meticulously, and cooked her beautiful food, sometimes even bringing special ingredients from home if she thought it might encourage our mother to eat. Even after mom was unable to feed herself, Zaira continued to cook things she could swallow, and fed her with great patience and ingenuity. She also used that ingenuity to persuade our mother to dress in street clothes, to go outside in a wheelchair, to speak on the phone when she was able, to listen to music, and even to watch a movie on television, with Zaira explaining what mom missed. When we called in hospice, Zaira refused to leave our mother's side and she brought a cot into mom's room and napped at night if my mother slept. It was always a pleasure for us to communicate with Zaira. She called us if she didn't see us that day, or to report a change. She made us feel, even though we visited almost every day, like honored guests. She made it easy to be with our mother and we trusted her implicitly. We can honestly say that Zaira invests her heart, mind, and skills, which are of the highest level, to improve and enrich the life of a person in her care.
- Susan & Steve T., New York
Zaira worked as a health care provider for my late father, Charles, from 2000-2002. She cared for him on weekends. My father suffered from Alzheimer's disease. Zaira is kind, compassionate, considerate, and caring. She is totally honest and did a great job. Any person that she works for will be lucky to have her.
- Barbara W., New York
I had a hip replacement in 2016 and I was worried about being home alone after returning from rehab. I had a team of workers during the day as well as at night. Zaira worked for me several nights a week. I wake up a lot at night and I needed to know that someone would be there to help me. Zaira was very nice and very good with me. I trusted her and felt comfortable with her there by my side. I recommend her highly.
- Barbara H., New York
Zaira served as a housekeeper for my friend for almost three years, ending in September 2016 when my friend MB was hospitalized for a fall. MB repeatedly advised me that Zaira was dependable, cheerful, trustworthy, and proud of performing her housekeeping tasks in a professional manner. During my friend's time in a rehabilitation center, Zaira kindly visited her several times and MB told me that Zaira brought in her favorite foods to supplement the diet. I was touched by her steadfast concern. There was a plan in place for Zaira to stay with my friend for the first few weeks at home, but unfortunately, MB died before she was able to return home. I met Zaira briefly when she attended the memorial service, but MB and I were friends for over three decades and I trust her positive evaluation of Zaira.
- Jeanne P., New York
Specialities
Advanced Dementia
Alzheimer's
Brain Injury
Cancer
Catheter
Colostomy
Dementia
Depression
Hospice
Mobility
Oxygen
Paralysis
Parkinson's
Special Needs Children
Stroke
Trach
Wounds
Dietary Specialities
Kosher
Liquid
Low-fat
No Salt
Puree
Vegan
Vegetarian
Degrees & Certificates
Bachelors in Trade Management and Cooking, Republic of Georgia
Home Health Aide, Licensed
Transportation to Job
Can Drive: No
Public Transportation: Yes
Car: No