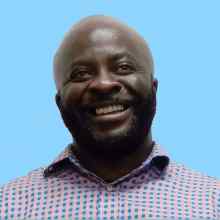 About Me
I have been a caregiver since 2009. Growing up, my dad got very sick, and I had the chance to take care of him. Since then, I have had the heart to take care of other people. I am always patient with what I do, regardless of how my clients treat me. Sometimes I know that they are going through something, they might be angry or upset, and they have that right. I just make sure to smile and be there for them. I am so happy with what I am doing. My clients and their families always appreciate me. People consider me like family, even if my patient passes, we remain in touch. I'm dependable, patient, and available all the time. I'm a quiet person, but I'm jovial and fun to be around, and I make friends very easily. I like watching movies, and I read a lot of mystery and suspense stories so I really like crime movies. I also like to travel, especially to Africa and Europe.
Recommendations
Osei was amazing. My father had a brain injury which made his case extremely demanding. He had very high needs and at times was very aggressive. Osei was very professional and never once complained about the difficulty of our case. He never called in sick and was always early for his shift. He went above and beyond. He was strong and at the same time just gentile with my father. We were so comfortable and knew my father was in great hands. He was dependable, very trustworthy, and kind, with a nice, respectful, and upbeat personality. I would trust him even with my own children. Osei is just a genuinely kind person. We wish him the best and are very grateful for his care.
- Dominique T. , Connecticut
Osei took care of my dad for about 4 years. My father is a severe alcoholic and he is very underweight, so I hired Osei to help him with his activities of daily living. He took my father to doctor appointments, managed his medications, and did some light housekeeping. I am a traveling nurse practitioner and I am on the West Coast. I hired Osei because he is very efficient. He is always on time and I know that he was there to work. He has an excellent professional manner. He handled my father very well and provided necessary tough love in our situation. I think that anyone would be happy with Osei.
- Gretha L., California
Work Experience
D. Care Home Care LLC, CT
Work Locations
Manhattan
Bronx
Westchester
Specialities
Advanced Dementia
Alcohol or Drug Dependency
Alzheimer's
Blind
Brain Injury
Cancer
Cardiac Condition
Catheter
Deaf
Dementia
Depression
Developmentally Disabled Adults
Diabetes
Hospice
Hoyer Lift
Mobility
Oxygen
Paralysis
Parkinson's
Special Needs Children
Stroke
Dietary Specialities
Diabetic
Kosher
Low-fat
No Salt
Vegetarian
Degrees & Certificates
Nurse Aide/Assistant, Graduate
Home Health Aide, Licensed
Transportation to Job
Can Drive: Yes
Public Transportation: No
Car: Yes