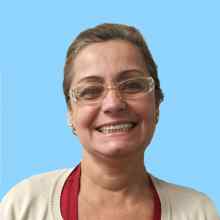 About Me
I have always liked taking care of people. When I was younger, I gravitated to spending time with my grandmother and aunts. I enjoy speaking with them because you can learn so much from them. I enjoy helping others because it makes me feel good. When I came to this country, I started working as a housekeeper. I now do what I really love, which is being a caregiver. My clients always say good things about me. I am caring, loving, and I make them feel safe and happy. I am a very outgoing person and have a good sense of humor. I like to spend time with my children and grand-children. I like to read and watch tv.
Recommendations
Silvana cared for my mother-in-law for about ten months. My mother-in-law suffered from a severe case of manic depressive/bipolar disorder. She was unable to be left alone, as she was suicidal and could not care for herself. From day one, Silvana made Mom feel comfortable and cared for. Silvana is an outstanding person, hard working, loving, personable, extremely caring and very patient. Silvana cared for our mother as if she was her own family member, which for us was very important. Silvana is always happy, smiling and loving, She always showed care and love towards our mom and mom felt loved by her. We are happy that mom is better now, but sad at the same time for losing such a wonderful person as Silvana. We highly recommend her as a caregiver and would definitely hire her back if we ever need her services. She will always be part of our family.
- Jean V., New Jersey
Silvana has cared for my wife who is bedridden and unable to speak or walk for about a year now. She has proved to be an excellent and compassionate person who I have come to rely on for my wife's care. I highly recommend her to anyone who is looking for quality care for a loved one.
- James A., New Jersey
Work Experience
Housekeeper/Self-Employer
Specialities
Alzheimer's
Cardiac Condition
Dementia
Diabetes
Mobility
Paralysis
Stroke
Degrees & Certificates
Home Health Aide, Graduate
Transportation to Job
Can Drive: Yes
Public Transportation: No
Car: Yes