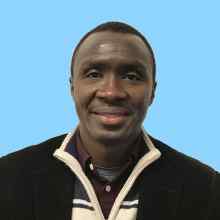 About Me
Caregiving is in a natural gift for me. It all started when I was younger, just after finishing high school. I had two grandparents who lived with us and they were rapidly getting visually impaired and I took care of them. I went out of my way to take care of them. When I came to the United States, I realized that this was a job that I could seize an opportunity with. I love people, and I like to see people improve their way of life. I like to be part of their improvement and render my service to others. I'm very tolerant and always ready to go the extra mile. Whatever challenge I may be faced with, I take it as a new way of learning. In my spare time, I like to listen to spiritual music in a quiet environment and study the bible. I welcome anyone that needs my services to impact their way of living and to improve their way of life.
Recommendations
Kevin was my caregiver for about five months after I came home from the hospital from back surgery in 2013. He was just a great support to me since I was partially paralyzed. He took initiative in caring for me and was incredibly thoughtful and caring. He was instrumental to my recovery. He made sure I was comfortable and managed my medication. He made sure everything around the house was taken care of as well. I give him a strong recommendation for any caregiver role. He has a great, engaging personality, and is knowledgeable and caring.
- Ross C., New Jersey
I work for a home care agency and we don't get many requests for male caregivers, so I'm willing to give Kevin a reference because I want him to find work. If I could find him a job myself, I would. He is an excellent caregiver with terrific social skills. He's very smart and you should hire him.
- Mario P., New Jersey
Work Locations
Manhattan
Northern New Jersey
Central New Jersey
Southern Connecticut
Bronx
Brooklyn
Staten Island
Queens
Long Island
Westchester
Rockland
Florida
Specialities
Advanced Dementia
Alcohol or Drug Dependency
Alzheimer's
Bipolar
Brain Injury
Cancer
Cardiac Condition
Colostomy
Dementia
Developmentally Disabled Adults
Diabetes
Depression
Feeding Tube
Hospice
Hoyer Lift
Mental Illness
Mobility
Multiple Sclerosis
Oxygen
Paralysis
Parkinson's
Special Needs Children
Stroke
Trach
Wounds
Degrees & Certificates
Bachelor's in Banking and Marketing, Ho Polytechnic, Ghana
Home Health Aide, Licensed
Transportation to Job
Can Drive: Yes
Public Transportation: No
Car: Yes