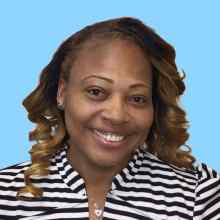 About Me
I originally wanted to become a nurse. When I immigrated to the United States, I did my Home Health Aide schooling then went on to earn my Certified Nurse's Aide certificate. After a few years, I was accepted into an Licensed Practical Nursing program, but was not that successful but I am trying to pursue further. Most importantly, I enjoy taking care of people. I get extremely happy when I do something good and make their life better. I feel good when I'm taking care of people. I'm very caring, compassionate, and reliable. I'm self-sufficient, and I feel good making decisions on my own for a client. I am comfortable working alone. I'm very helpful and I go the extra mile for my clients. I will do special things for my clients. When I'm not working, I read a lot, and I enjoy cooking if I have someone to cook for. I also enjoy shopping.
Recommendations
Corine took care of my grandmother for quite some time, about 4-5 years. My grandmother was older, and she had high blood pressure and also diabetes. She also underwent an operation on her leg because she had a blood clot. Corine helped my grandmother with everything she needed. My grandmother was still very alert, but she just needed assistance. Corine cooked, helped her with her personal needs, and did some light housekeeping. My grandmother was very comfortable with Corine, and believe me, if she wasn't, we wouldn't have kept Corine for so long. We had aides before who we let go because they were not up to our standards. Corine would sometimes even show up on days that she wasn't supposed to be there, just because. She's a very nice person and very easy to be around. There was one time that Corine took off and someone else covered for her, and my grandmother was so upset because she thought Corine left her. That's how I knew that my grandmother was so happy with Corine. I was very happy with her care and anyone else would be, too.
- Terrance E., New York
It is my great pleasure to provide a reference for Corine. Corine began working with our family approximately 7 years ago. She was responsible for taking care of my aging mother. Corine quickly became a trusted member of our household. It was obvious to me that she took great care of my mother. My mom came to rely on Corine and a true bond was formed. As my mom aged, she became confined to a wheelchair and eventually became bedridden. Corine continued providing outstanding care throughout this time. Later, mom had a stroke and was unable to speak. However, that did not stop Corine from finding ways to communicate with my mom effectively. I have been very impressed with Corine's attendance. Over the many years, I can count on one hand the number of days she was unable to take care of my mom. Her dedication and devotion to my mother was outstanding. And as a result, my mom, and all of us, considered Corine part of our family. My mother passed away recently so Corine's services are no longer required. I received a number of notes telling us what a good son I have been for taking care of her. However, the true hero in my mom's life over the last few years has been Corine. Corine's compassion and caring made her life just perfect. We will miss having her in our home and only wish the best for her. Her future employer will be lucky to have her.
- Richard M., New York
Corine worked for me and my late mother for about 3 years. She's a wonderful employee and caregiver. Corine is responsible, kind, and reliable. She was a delight to have around, and my mother loved having her. I have nothing but good things to say about Corine. Corine is absolutely wonderful and deserves 5 stars as a caregiver. Whoever gets her, will be so lucky.
- Crescent D., Vermont
Work Locations
Manhattan
Bronx
Westchester
Specialities
Alzheimer's
Cardiac Condition
Dementia
Diabetes
Feeding Tube
Hospice
Hoyer Lift
Mobility
Oxygen
Paralysis
Parkinson's
Stroke
Wounds
Degrees & Certificates
Certified Nurse Aide/Assistant, Licensed
Transportation to Job
Can Drive: Yes
Public Transportation: No
Car: Yes