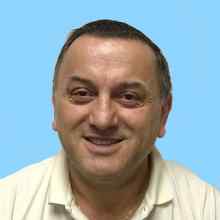 About Me
I grew up with my family on a farm in the Republic of Georgia. I came to America in 1998. I used to live in Ohio and worked in a restaurant as a chef. I also worked in a few hotels. I have done a lot of different jobs, but caregiving has been my job since 2007. I like to work in the house with my client. Not only can I take care of my client, I can take care of the house. I can fix a lot of things in the house if they need that to be done because I'm a handyman. I can shovel snow or cut the grass. I am a very good cook, and I'm even good at giving haircuts. I really love working with people. I'm very honest, and I don't like to be lied to. I like to be friendly with my clients. I like to help people and make them happy because it makes me feel happy, too. For fun, I like to drive and go from state to state and see different places. I like to spend time with my close friends. I also like to garden and grow my own food.
Recommendations
It is my privilege to recommend David as a caregiver. David took wonderful care of my parents, mostly my father, for over two years until my dad passed away. David is extremely compassionate, hard working, and completely trustworthy. My father was partially disabled from the effects of a stroke and David was very good at dealing with his particular health issues, and adapting as his needs changed. While caring for my parents, David performed a variety of daily activities. He assisted my father with bathing and dressing, and prepared meals and administered medications for both of my parents. He also took care of the laundry and changed bed linens for them. David also took care of incidental household maintenance -- he is a very neat person -- and even enjoyed doing vegetable gardening for them, something my father loved but could no longer do himself. David was a wonderful companion for my father, often engaging him in conversation to help keep his mind sharp or joking with him, which my father loved. He was always pleasant to deal with and my father, indeed the whole family, came to think of David as part of the family. I highly recommend David as a caregiver.
- Geoffrey M., Connecticut
David provided valuable services as a home health care provider for my brother from 2008-2012. Having brought my brother home from the hospital not being able to be left alone because of the onset of dementia, I was determined to find a person who could take care of him 24 hours a day but at the same time be a compassionate friend to my brother who was going through the most difficult time of his life. Dave dispensed the devoted, loving care, wisdom, and compassion my brother needed through those 4 years as his condition deteriorated. Dave also became a trusted member of our family. It was Dave's decision to move on and he will be missed very much, but we completely understand and support his decision. I would highly recommend Dave for employment as a home health care provider. He has all the attributes you could want in a caregiver -- intelligence, competence, kindness, and total commitment to his client's well-being. Hire him to help you take care of your loved one; you'll be glad you did.
- Diane N., New Jersey
Work Locations
Westchester
Southern Connecticut
Long Island
Rockland
Northern New Jersey
Central New Jersey
Specialities
Advanced Dementia
Alzheimer's
Brain Injury
Cancer
Catheter
Dementia
Depression
Diabetes
Feeding Tube
Hospice
Hoyer Lift
Mobility
Multiple Sclerosis
Oxygen
Parkinson's
Stroke
Dietary Specialities
Feeding Tube
Low-fat
No Salt
Vegetarian
Transportation to Job
Can Drive: Yes
Public Transportation: No
Car: Yes
Ready For Your
Free

Consultation?
CALL
Hours: 8am - 6pm x 7 days
(and after hours if you need us)
Serving Metro New York & Connecticut