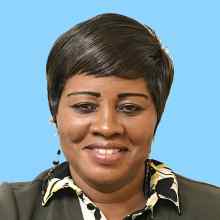 About Me
My friend's mother was very sick, and I helped to take care of her. The family was very impressed with me, and that's when I realized that this was the field for me. I love doing this kind of work, and I love working with the elderly. I like to make my clients feel happy. I smile a lot and talk with my clients, a lot. My clients like me because I am full of energy and I am always happy. I enjoy playing games with people. I like to clean, and I love to cook. One thing I am very proud of is the fact that I work closely with a community in Ghana and I supply children in need with clothes, toys and anything else that they need. I love to help those in need.
Recommendations
Philomina was my husband's caregiver for 3 years, 2015-August 2017. We needed some more assistance and additional help, so that is why Philomina is no longer with us. My husband, Sonny, suffers from some heart conditions, and just recently he was diagnosed with heart failure. Philomina was great, and she was always willing to hep. She took care of all of my husband's needs, especially showering him religiously. If I needed some things from the store, Philomina wouldn't hesitate to run out for us. She was there for us when we needed her. She's a very hard-worker, she's reliable, and very dependable. What more could you want from a caregiver? We recommend her highly.
- Shirley B., New Jersey
Philomina took care of my mother for about a year and a half, up until my mother passed away in February 2017. My mother was 100 years old and needed assistance in her home. Philomina was great with the personal care and personal hygiene. My mother was a very particular and demanding woman. While she was very critical, but she sang the praises for Philomina, and that's really saying something special. When we first met Philomina, my mother was returning from the hospital from a serious UTI, but we never had that problem again with Philomina around. My mother was getting the proper care she needed with Philomina, and that was what we really cared about. Philomina is very positive with her work, she's very gracious, respectful, and helpful. She went the extra mile for us. I absolutely recommend her services.
- Chris B., New York
Specialities
ALS / Lou Gehrig's Disease
Blind
Cancer
Catheter
Dementia
Depression
Diabetes
Hospice
Mobility
Oxygen
Parkinson's
Stroke
Dietary Specialities
Diabetic
Kosher
Low-fat
No Salt
Puree
Degrees & Certificates
Home Health Aide, Licensed
Transportation to Job
Can Drive: Yes
Public Transportation: No
Car: Yes