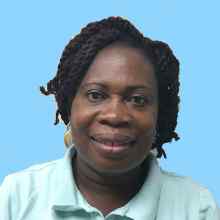 About Me
I love working with the elderly. I also love children. I grew up with my grandmother and helped her when needed, so this job really came naturally to me. I like to make sure my clients are clean and neat. I can help them with eating and preparing meals. I can help my clients with medication reminders and taking walks. We can do range-of-motion exercises together. I can also go shopping for my clients or take them to their appointments, and I do light housekeeping. I'm kind, honest, reliable, and punctual. You'll also see that I'm quiet and easygoing. I enjoy reading, and I love to cook.
Recommendations
My mother fell and broke both of her legs and she never really recovered from that. Leticia started working for her in September 2016 and was with her until she passed away in May 2017. She came in Monday to Friday for 8 hours, and sometimes on Saturdays as well. My mother had just lost her husband when Leticia started, and she was pretty down and depressed. Leticia's biggest accomplishment was making my mother laugh. They got along well and mom always had good things to say about Leticia. Leticia's basic responsibilities included cooking, light housekeeping, helping mom in the bathroom, and helping her in and out of bed. She was reliable and trustworthy and I certainly would hire her again if I needed a caregiver.
- Frank J., New Jersey
Leticia was my caregiver for more than 8 years about 2008-2016. I moved into an assisted living facility, so that's the only reason I don't have Leticia anymore. I have had a lot of problems with my heart, which caused me to not be able to do a lot of things around the house. Leticia helped me with everything. There was nothing she couldn't do. She would cook, do laundry, help me with my health needs, and she even sewed and shortened clothing for me. She's very hard-working and really became part of my family. She's very cheerful and pleasant to be around. Leticia is everything you'd want in a caregiver and I recommend her highly.
- Sandy R., New Jersey
Specialities
Advanced Dementia
Alcohol or Drug Dependency
ALS / Lou Gehrig's Disease
Alzheimer's
Bipolar
Blind
Brain Injury
Cancer
Cardiac Condition
Catheter
Dementia
Depression
Developmentally Disabled Adults
Diabetes
Feeding Tube
Hospice
Mental Illness
Mobility
Multiple Sclerosis
Newborns
Oxygen
Paralysis
Parkinson's
Special Needs Children
Stroke
Trach
Wounds
Degrees & Certificates
Certified Nurse Aide/Assistant, Licensed
Home Health Aide, Licensed
Transportation to Job
Can Drive: Yes
Public Transportation: No
Car: Yes