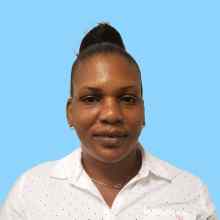 About Me
When I was back home in Jamaica, I used to take care of my grandmother because she wanted only my sister and I to take care of her personal needs. When I arrived in the United States, I first got a job as a housekeeper and my second job was as a private caregiver. I fell in love with the caregiving job. I decided to take classes so I could learn more about the field and that is when I earned my Nurse's Aide certification. I get to meet different people through caregiving, and I get to understand what they are going through and be a companion to assist them with their daily needs. I'm fun to be with. I try to encourage my clients to engage in some form of entertainment to release some stress. I am jovial and firm with the needs of my clients. I am also an outgoing person. I love to go bowling when I am out of work, or play games with my family, usually some form of bonding activity. We also like to watch movies.
Recommendations
I am an RN and was the Power of Attorney for Ms. K. She had Parkinsonian Syndrome and was extremely stiff and spoke only in whispers, or not at all. Stacy was one of a rotating crew of none caregivers. and was with Ms. K. from January 2012 until her death in May 2017. She worked every weekend, and took a few shifts during the week on a rotating schedule. Ms. K. showered once a week, and insisted that Stacy be the caregiver with that responsibility. She is physically strong and Ms. K. felt very safe in the shower with her. Stacy was the lead aide on the weekends and was responsible for medication reminders. She knew what foods Ms. K. could eat and was excellent at feeding and toileting. Ms. K. had many visitors and Stacy was very respectful of her privacy. Stacy was very good to my client and did her job well. I have no hesitations in recommending her.
- Ann T., New York
Stacy was a caregiver for both of my parents for a few years. She first worked with my mother, who was declining and frail. She couldn't really do things on her own anymore. My mom died in 2009, and then Stacy continued to work with my dad, who had COPD. Stacy lived with my parents and took care of the house during the week. My father was a difficult and demanding person, but he loved Stacy. Stacy is very reliable and very on top of things. She did her job very well. Stacy was pregnant at the time and had to stop working with us. After she had her baby, she would come and visit my father and he liked that. We had a great experience with Stacy and I think anyone will be lucky to hire her.
- Bianca D., New York
Work Locations
Manhattan
Queens
Long Island
Westchester
Specialities
Advanced Dementia
Alcohol or Drug Dependency
Alzheimer's
Blind
Brain Injury
Cancer
Catheter
Colostomy
Dementia
Depression
Developmentally Disabled Adults
Diabetes
Feeding Tube
Hospice
Hoyer Lift
Mobility
Oxygen
Paralysis
Parkinson's
Special Needs Children
Stroke
Trach
Wounds
Dietary Specialities
Gluten Free
Liquid
No Salt
Puree
Vegetarian
Degrees & Certificates
Certified Nurse Aide/Assistant, Licensed
Transportation to Job
Can Drive: Yes
Public Transportation: No
Car: Yes