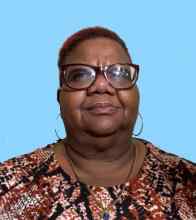 About Me
I was born in Jamaica and as I was growing up, I volunteered and did a lot of community outreach. When I graduated from high school, I worked with a community doctor doing home care visits. Next, I was a police officer for 13 years. I had my three children in Jamaica though they stayed behind with family when I migrated to the United States in 1998. My first job was as a nanny for two years, but when the family moved to another state, I chose not to move with them. Instead, I got a job at an assisted living facility and was there for years before becoming a live-in caregiver privately. Ever since I've been working one-on-one with clients. I love to talk with my clients, play Rummikub and other games, take them outside, and go to the movies or shopping. I try to stay in touch with my past clients and have a collection of letters and memorabilia from them. When I go through the cards, it brings a smile to my face. In Jamaica, we don't have nursing homes, so we take care of our own relatives and my mom is in Jamaica being taken care of by another family member. I love being a caregiver because I can nurture my clients the way I hope someone is taking care of my mom. My children eventually joined me in the United States and they all work in the medical field. When I'm not working, I spend my time with my grandchildren.
Recommendations
My father and his brother lived together. Dad was 73 and used a wheelchair exclusively. My uncle was 78, and in better physical shape, but still not able to live completely on his own, and certainly not able to care for my dad. Sandy started coming in daily in August 2017 and she stayed until my dad and uncle moved into a nursing facility in April 2018. She was wonderful. She prepared three meals each day. She helped my father with bathing and dressing. I did the food shopping, and Sandy would accompany us to doctor appointments. She kept in touch with me by phone and text. Sandy is funny and caring and in tune with and aware of everything around her. When Sandy came for her first interview, she showed that awareness, and also showed that she would always preserve my dad and uncle's dignity. She quietly took me aside and asked if she could help my dad "get cleaned up" because she noticed an odor. Sandy was extremely reliable and also flexible. As my dad and uncle aged, she realized that they needed more help in the evenings, and she asked about switching her hours to better be able to provide support when it was needed. I highly recommend Sandy.
- Annette A., New York
My mother was in her late 90s and her brain was sharp as a tack. She primarily used a wheelchair, and occasionally a walker to get around. Sandy worked a 12-hour daytime shift beginning in 2013 and was with mom until her death in November 2016. Sandy took great pride in being an excellent caregiver. She was caring, loyal, reliable, and honest. She treated my mother as if she were family and made my mother's day-to-day life easy. My mother had a kosher home and Sandy is very capable of cooking and following the rules of keeping kosher. She also helped my mother with bathing and dressing. When mom was incontinent, Sandy would never embarrass her. They played board games and cards, and Sandy kept mom entertained. I appreciated that Sandy stayed on top of any problems. She kept in contact with me in an appropriate way, reaching out when necessary but never being a bother. When my mother died, Sandy was very supportive and helpful in the transition. I would recommend her without hesitation as an excellent caregiver.
- Howard F., New Jersey
Work Locations
Manhattan
Bronx
Westchester
Southern Connecticut
Specialities
Advanced Dementia
ALS / Lou Gehrig's Disease
Alzheimer's
Blind
Brain Injury
Cancer
Cardiac Condition
Catheter
Colostomy
Dementia
Depression
Diabetes
Feeding Tube
Hospice
Mobility
Multiple Sclerosis
Oxygen
Paralysis
Parkinson's
Stroke
Wounds
Dietary Specialities
Diabetic
Feeding Tube
Kosher
Liquid
Puree
Vegetarian
Degrees & Certificates
Nurse Aide/Assistant, Graduate
Home Health Aide, Licensed
Transportation to Job
Can Drive: No
Public Transportation: Yes
Car: No
Ready For Your
Free

Consultation?
CALL
Hours: 8am - 6pm x 7 days
(and after hours if you need us)
Serving Metro New York & Connecticut