Overwhelmed By Home Care Decisions? Our Free E-book Can Help.
Read "From Crisis to Caregiver" to help navigate the complex home care landscape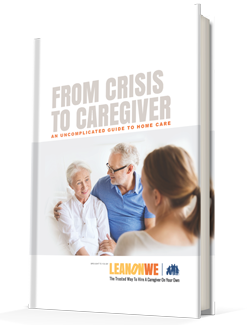 Get help with the tough decisions.
When your loved one first needs home care, there are a lot decisions to make. Our e-book simplifies the decision-making process for hiring home care, so you can find the reliable, trusted home care you need.
Download the e-book to learn:
The best way to get the care your senior needs.
What care costs and strategies for managing expenses.
The pros and cons of 3 common care options.
Pitfalls you may encounter along the way. (We've been there, so we know what to expect.)
Discover the trusted way to hire home care. LeanOnWe's hybrid approach offers the control and cost benefits of hiring on your own with access to back-up caregivers.
For Help Now, Call
844-532-6669, Ext 750
Download "From Crisis to Caregiver" Now
Testimonials
Highly recommended!

LeanOnWe is run professionally and focuses on providing qualified care providers. My mother had an operation and was hospitalized for three weeks, then had to go to post-op rehab. Our care provider was great during the 1-2 months we needed care.

The overall experience with LeanOnWe was 5-star. This is not like an ordinary agency!

Thank you LeanOnWe.
I was in a crisis situation. My 95-year-old dad was in the hospital and needed to be discharged back to his apartment with a 24-hour live-in aide.

I called LeanOnWe and they acted quickly and compassionately by giving me a choice of caregivers to review. I was able to look at their bios, references and videos, and make arrangements for care.

Within two days, my father was home with a wonderful caregiver that we have been extremely happy with.