Download Our Free Home Care Guide
Our Guide Can Help You navigate the complex home care landscape
Get help with the tough decisions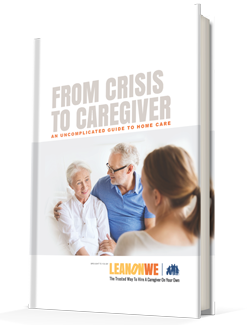 When your loved one needs home care, there are a lot decisions to be made.
Our home care guide will help you understand the choices you face. And it will simplify the decision-making process, so you can find the reliable, trusted care your loved one needs.
Download the guide to learn:
The best way to hire the home care your loved one needs
Pros and cons of the most common home care hiring options
Strategies for managing home care costs
Advice on the challenges you may encounter (We've been there, so we know what to expect)
Discover the trusted way to hire home care. LeanOnWe's unique approach offers the control and cost benefits of hiring on your own while ensuring the highest quality caregivers with the added support of access to back-up and replacement caregivers.
Download Your Free Guide Now
Complete the fields below and click 'download' button to receive the guide
Need Help Now?
Our Care Advisors Are Available for A Free Consultation
Professional Care Advisors are available 7 days a week
We'll recommend highly qualified home caregivers based on your specific needs
We'll help you through the interviewing and hiring process
Back-up and replacement caregivers available as needed
Your free consultation is just a phone call away