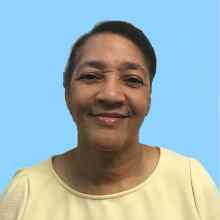 About Me
I love humanity and working with people. I want to share with people my experience, my love, and my knowledge of caring for others. I love to give people hope and reassurance. I am there for my clients to be a pillow if they need one. I'm willing to go above and beyond. With my tactics, experience, and professionalism, I know I will be a good fit for anyone. I love to provide protection for my clients and make sure they are safe. I give love where there is no love and I give hope where there is no hope. I will do anything to lift someone up and build up their self esteem. For fun, I love singing and I also direct a choir at my church. I love reading, and I like to write poems, as well.
Recommendations
Diana has been a caregiver for my developmentally disabled brother at his group home since 2012. She is warm, caring, and very responsible. She works the most difficult shift of the day, 3 pm to 11 pm. Her responsibilities include driving him home from workshop, assisting him with his chores, encouraging him to exercise by reading to him to distract him while on the treadmill, feeding him dinner and giving him his medicine, making sure he showers and does what he needs to do to get ready for bed, typing up the appropriate documentation for the day, and then checking up on him again before she leaves. Diana was an early childhood teacher prior to working at the group home and uses her teaching skills to help my brother write words, letters, and numbers. She also goes out of her way to look for fun, creative activities for my brother and the other residents to do. She has been consistent and reliable, and I highly recommend her for any family that would be lucky enough to have her.
- Nina G., LeanOnWe Customer, New Jersey
Diana has been part of our home caring group for since 2013. I am the house supervisor and she is part of our core care team. We have a home where we care for mostly disabled patients. She has a wide range of responsibilities from taking a patient to a doctor appointment to showering and giving full personal care to whoever needs assistance. Every day is different and the beauty of having Diana as part of our team is that she comes in with great energy and ready to take on any task we may have for her with a cheery and caring attitude. She is very good at calming our patients. One thing that stands out about her is that she is a great advocate for her patients. She is always speaking out if there is anything she feels is wrong and she makes sure they have what they need. She is a great team player and warm hearted. I believe those are important qualities for a caregiver and she has them.
- Carolyn D., New Jersey
Diana has been part of our senior living community since around 2014 and still is. She is a great asset to my team, and I have been her direct supervisor and I'm very proud to have her work with us. She is always punctual, and very caring and attentive to our residents. She works mainly on the dementia floor and it takes a lot of patience to manage. Diana is very caring and is always thinking of things to stimulate the residents and help them feel well. I highly recommend her and wish we can keep her for a very long time.
- Ruth Ann O., New Jersey
Work Experience
Center for Developmentally Disabled Adults
Work Locations
Northern New Jersey
Central New Jersey
Specialities
Alzheimer's
Bipolar
Blind
Brain Injury
Dementia
Depression
Developmentally Disabled Adults
Diabetes
Mobility
Newborns
Oxygen
Special Needs Children
Dietary Specialities
Diabetic
Kosher
Low-fat
Puree
Degrees & Certificates
Certified Nurse Aide/Assistant, Licensed
Home Health Aide, Licensed
Transportation to Job
Can Drive: Yes
Public Transportation: No
Car: Yes