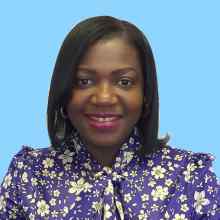 About Me
Since I was a little girl, I wanted to become a nurse or a doctor. I love taking care of people, especially elderly people and children. I have the patience for the job and I'm very respectful. I will be a nurse one day, it's my dream. I like to take care of my clients and help them with their needs. I can take them to their appointments, cook for them, and clean the house and keep everything neat. We have fun together. Sometimes we read together, watch TV together, and even dance together. I like to entertain them because sometimes they need that. I'm very neat, respectful, hard-working, and I'm good at working on a team. My hobby is cooking. I like to go shopping, too.
Recommendations
Tina was my companion/caregiver for 2 weeks in the summer of 2018 while I recovered from spine surgery. She boosted my spirits, gently encouraged me to take outdoor walks (as prescribed by my surgeon), kept our kitchen remarkably spic and span after every meal and was a complete pleasure to be with. I was impressed at how easily Tina fit in to the rhythm of our household. She is intuitively savvy and upbeat and takes the initiative to do what needs to be done, i.e., straighten the bedroom, tidy the kitchen, offer to make lunch and prep dinner. She is well-organized, compassionate, and professional and helped me immensely. I recommend her highly.
- Candace D., New Jersey
My mother was a very difficult person, sometimes even aggressive. She suffered from Alzheimer's disease and was not easy to deal with. Tina has a good spirit and was very easy to get along with. She cared for my mom and did some light housekeeping. Tina was a good companion, reading, sharing stories and actively spending time with her. She is incredibly patient and thoughtful, and a person of good character.
- Ingrid H., New Jersey
Tina is a lovely person. My wife suffers from dementia and Tina was her substitute caregiver for one month this year. She is friendly, gentle, and very easy going. Tina arrived promptly and helped my wife start her day. It was a pleasure to have her around and we would be thrilled to hire her again. I strongly recommend her as a caregiver to anyone.
- Eugene M., New Jersey
Tina lived with my grandmother from 2011-12. My grandmother was showing signs of dementia, and a stroke left her using a walker, so she needed a full-time companion. Tina did everything for my grandmother -- cooking, cleaning, driving her to appointments, and shopping. The apartment always looked nice and was neat and clean. She's a nice person and our family liked her a lot. In 2012, my parents decided that my grandmother should come to Massachusetts where the rest of the family was living. We wanted Tina to move with her, but she was not able to do that. My grandmother was not happy that she would lose Tina, but she didn't really have a choice. I would definitely recommend her.
- Elsie T., Massachusetts
Work Locations
Northern New Jersey
Central New Jersey
Specialities
Advanced Dementia
ALS / Lou Gehrig's Disease
Alzheimer's
Cancer
Cardiac Condition
Catheter
Dementia
Depression
Diabetes
Hospice
Hoyer Lift
Mental Illness
Newborns
Oxygen
Parkinson's
Stroke
Dietary Specialities
Celiac
Diabetic
Feeding Tube
Kosher
Liquid
Low-fat
No Salt
Vegan
Degrees & Certificates
Bachelors in Social Work, Aggrey Memorial Zion School, Ghana
Home Health Aide, Licensed
Transportation to Job
Can Drive: Yes
Public Transportation: No
Car: Yes