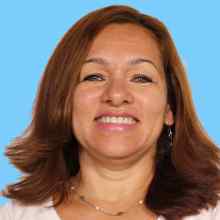 About Me
I have been a caregiver for over 25 years and helping others is my No. 1 priority. I have a lot of love and compassion for people who really need it the most. I received my Certified Nurse Assistant training from Santa Barbara City College in 1993 and, in the years since, I have also received my Home Health Aide, Personal Care Aide, AMAP, and SCIP certifications. Perhaps more importantly, I'm also reliable, honest, caring, and punctual. As a little known fact, I joined an educational program at IBM in the early 1980s and learned basic computer programming, including COBOL and FORTRAN. I also like to spend my spare time reading the bible, walking on the beach, shopping, and spending time with my six wonderful grandchildren.
Recommendations
My mother died in 2009 when she was 100 years old, and Norha is one of the best caretakers we ever had. She was with my mother for about two years. She's extremely knowledgeable and highly trained. She's a sweetheart and we will never forget how wonderful she was to my mother. Norha believes that the person she takes care of comes first and a family will never have to worry if Norha is taking care of their loved one. As my mother aged, she lost her ability to speak English, and Norha's Spanish facilitated communication between my mother and her doctors. We especially appreciated that she was punctual and trustworthy and respected the rules of the house.
- Gladys I., New York, October 2014
Norha took care of my mother for a few months. During this time, Norha showed that she was extremely responsible and thorough with her caregiving. She was also also very caring and loving towards my mother. My mother and Norha got along very well. My mother trusted Norha and they laughed together, that made me happy. What stands out about Norha is her concern and her level of care. I would certainly recommend Norha for a caregiving position.
- Susan L., New York, 10/2014
Norha has been a part-time caregiver for our mother (in-law), Hortense. Hortense has Parkinson's disease and requires ongoing care in our home. Although I am the primary caregiver, Norha helps me fulfill the caregiver role by helping the elder Hortense with personal care and housekeeping in a kind and loving manner. Norha has proven to be a hard worker and is honest and reliable.
- Edward and Alexis F. , California, 04/2001
Work Experience
Home Health Aide - Private Patient
Home Health Aide - Utopia Home Care Inc.
Home Health Aide - Private Patient
Work Locations
Manhattan
Queens
Long Island
Specialities
Alzheimer's
Dementia
Diabetes
Mobility
Special Needs Children
Degrees & Certificates
Certified Nursing Assistant, Graduate
Licensed Home Health Aide
Transportation to Job
Can Drive: Yes
Public Transportation: No
Car: Yes