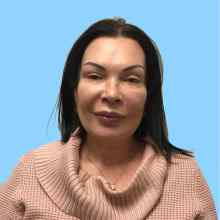 About Me
I worked in Moscow for about 25 years in a hospital in the pediatrics department. I came to the United States in 2011, and I started working as a caregiver right away. I love helping people and I'm a very positive person. I take the best care of my clients, and I make sure they never have a bed sore. I love to be around the elderly. I treat my clients like they are my own family. I like to give my clients a massage, exercise with them every day, cook good food for them, and take them outside. I love to smile and have a good time. I provide the best care to people. I'm very honest. I keep the house very clean because that's very important to me. I want my client to always feel good. When I'm not working, I like to spend time with my daughter and my cat. I also love to talk to my family in Moscow.
Recommendations
My mother had a bad fall and broke her arm, and then a few days later, my brother was killed in an accident. Needless to say, it was an incredibly difficult time for mom. She had surgery after the funeral and went to rehab, but she was just languishing there. The staff called it "failure to thrive." Mom wanted to go home and we hired Oksana in September 2016 to come live in mom's home. Oksana made all the difference in the world. She and my mother developed an incredible bond and mom adored Oksana. For the next year and a half, Oksana was by her side. She's a wonderful cook, she made sure that mom's hair and nails were done and she was dressed and made up, and they exercised together every day. She kept the house clean and reminded my mother to take her medications. Oksana, mom, my boyfriend, and I went to dinner every Sunday night and we had a wonderful time together. As my mother's health declined, a visiting nurse started coming, and she always commented on how soft and clear mom's skin was. Oksana massaged mom's feet and legs, and provided hospice care in the end. Of course, she was with my mother when she died in in December 2017. I still keep in touch with Oksana and can't express enough how grateful I am to her for helping my mother to thrive.
- Debby D., New Jersey
In 2013, Oksana worked for my parents as a live-in caregiver providing personal care for my mother, who had multiple physical limitations, and my father, who had dementia. Her medical knowledge was evident in the way she administered this care. In addition, she took responsibility for general housekeeping, including cooking and cleaning. She provided my parents with regular healthful meals while maintaining a clean environment that brought them back to, and maintained, a positive level of health. In summary, Oksana is a caring, honest, and professional person. I unconditionally recommend her.
- Louis M., New Jersey
Work Locations
Northern New Jersey
Central New Jersey
Specialities
Advanced Dementia
Alzheimer's
Brain Injury
Cancer
Dementia
Depression
Diabetes
Feeding Tube
Hospice
Hoyer Lift
Mental Illness
Mobility
Multiple Sclerosis
Oxygen
Parkinson's
Stroke
Degrees & Certificates
Bachelor's in Nursing, First Moscow State Medical University, Russia
Home Health Aide, Licensed
Transportation to Job
Can Drive: Yes
Public Transportation: No
Car: Yes