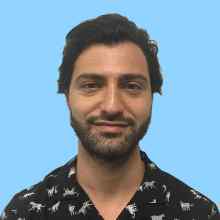 About Me
I developed an interest in caregiving after caring for my grandfather, who suffered from cancer for 3 months. I am very passionate and always happy to help. I always provide the best care to all of my clients. I love to see a positive outcome when it comes to my clients' health. I also love taking them out to get fresh air when needed and taking them out to socialize. I'm a good listener and I always get my clients involved in activities. I am very responsible and hardworking, and I don't do my job only for monetary purposes. I'm very compassionate and always looking for an opportunity to improve people's health.
Recommendations
It is my privilege to recommend George as a caregiver. George took wonderful care of my father at home allowing him to stay in his house three years longer than he would have been able to stay otherwise. He worked with him from March 2015 until he passed away in May 2019. That made my father very happy and George was a blessing to the entire family. George is extremely compassionate and completely trustworthy. I felt so fortunate to have him live with and care for my father these last three years. My father was partially disabled from the effects of a stroke. While caring for my father, George performed a variety of daily activities. He assisted my father with bathing, dressing, preparing and feeding meals, and medications. He took my father for walks around the neighborhood every day (weather permitting) to allow him to get fresh air. I am confident that you will be as happy with his work as I was.
- Chaya M., New York
George took care of my grandfather from 2015-2016. My grandfather had dementia and was pretty mobile until the end. At the end of his life, he spent his time in a hospital bed. George was a great worker. We never had any problems; he was always on time and very respectful. We knew that my grandfather was in good hands with George being around. George would assist with his hygiene, feeding him, and making sure he took his medications. George did a great job for us and I certainly recommend him.
- Matthew D., New York
Specialities
Advanced Dementia
Alzheimer's
Dementia
Mobility
Multiple Sclerosis
Dietary Specialities
Kosher
Liquid
Puree
Vegetarian
Degrees & Certificates
Bachelor's in Acting, Shota Rustaveli Theater and Georgia State Film University, Republic of Georgia
Home Health Aide, Licensed
Transportation to Job
Can Drive: Yes
Public Transportation: Yes
Car: No