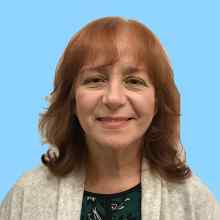 About Me
Before caregiving, I used to be a housekeeper and I got very close to the families I worked with. I started to slowly take care of my clients' elderly family members and sometimes their young children. I started to get a feel for this kind of work, and my clients liked me. Now, I love to take care of people. I think it's something that has always been within me. When my own children grew up, I had more free time, and I decided to become more serious in the healthcare field by receiving my home health aide license. I like to have conversations with my clients, provide them with good company, drive them around, go to a park for leisure, or run errands. I really love to help people with things that they can't really do on their own anymore. I can be an assistant or a companion. When my clients thank me, I feel overjoyed and happy with what I've been able to do. I've taken care of some very dear people. I have good conversations with my clients and I encourage them to talk about their lives and past experiences, it makes people happy especially when they are lonely. I make people laugh, all the time, and I love to do that. I enjoy reading or watching a movie. I'm definitely a homebody type of person. I also like exercising and going to the gym. I enjoy traveling, sightseeing, and going to the beach. I love nature and animals. My faith is very important to me, so I go to church and I really love doing that. I think I can really make a difference in somebody's life, so that's what I'm looking to do right now.
Recommendations
We hired Ruth to work with my mother in January 2018. My mother has Parkinson's and was living in my home with my two children at the time. Ruth lived with us all in the home to take care of my mother. Living with Ruth was much easier than I anticipated. She's a very lovely woman and very pleasant to be around. She definitely knows when to interact and when to kind of step back and provide privacy. My mother is a fall risk, so Ruth assisted her with bathing, dressing, and chores around the house. Ruth even made all of our beds and cooked for the whole family, as well. I did not expect her to do that, but it was very lovely. My mother's Parkinson's got progressively worse, so in February we decided to make some changes and moved my mother out of the house so we no longer needed Ruth's help. I told Ruth that if anything ever changes, she's the first person I'm calling to take care of my mom. I recommend her highly.
- Patricia G., Pennsylvania
Miss Ruth, as we call her, has been an honorary member of our family since 2015. She is kind, attentive, thoughtful, and so very gentle with our children and they have to come to love her as part of our family. We have come to love her as well. It is very important to have a strong, positive relationship with your children's caregiver, and we certainly enjoy that kind of relationship with Ruth. She is a pleasure to work with in every way. In addition to being incredibly lovable, she is also very skilled at managing young children. We have two children, both under 10 years of age, and they are full of energy. Miss Ruth is very capable of managing their high energy, and is always patient and eager to find ways to entertain them. She is very conscientious and careful to follow any rules or systems we use in our household to maintain a seamless transition when she is responsible for the care of our children. Truthfully, Miss Ruth has been a blessing. My children regularly ask for her to come "visit," and when I leave my children in her care, I never worry about their well being. I know that they are in very capable and very loving hands.
- Amanda C., New Jersey
Work Experience
Private Housekeeping Client
Work Locations
Northern New Jersey
Central New Jersey
Specialities
Cancer
Catheter
Dementia
Diabetes
Feeding Tube
Hospice
Mobility
Newborns
Oxygen
Parkinson's
Stroke
Dietary Specialities
Diabetic
Gluten Free
Low-fat
No Salt
Puree
Vegetarian
Degrees & Certificates
Home Health Aide, Licensed
Transportation to Job
Can Drive: Yes
Public Transportation: No
Car: Yes