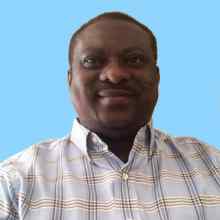 About Me
I was born in Ghana and I lived with my grandparents and took care of them as they aged. I worked as a shoemaker and made traditional shoes. Bill Clinton even bought a pair of shoes for himself, Hillary, and Chelsea that I made. I worked with people from all over the world in teaching traditional crafts and Ghanian culture. I also did a lot of interpretation for them with the elders in our community. In 1998, I came to the United States. I worked in construction for while but mostly have been doing 24/7 live-in care with clients. I love helping elderly people. I work with my heart. I love having conversations and learning people's history and culture and sharing mine. I enjoying cooking and I can cook anything that my client wants. My partner lived in Italy and she has taught me how to cook many Italian dishes. I spend my spare time exercising and reading the Bible.
Recommendations
Stephen was a 24/7 caregiver for my father for about a month in December 2020. Dad was 94 years old. After a fall, he was released from the hospital and came home to hospice care. Stephen was his only caregiver, and was a wonderful fit. Dad was a Marine and he appreciated that Stephen was strong and fit, and at the same time, loved that he was gentle, sweet, and kind. My husband and I visited mom and dad's house every day and we got to know Stephen very well in that long month. He did everything dad needed and everything dad wanted and knew exactly what to do and when to do it. I was glad that he would ask questions to my mother and me about our preferences and how we wanted certain things done or not done. We relied on Stephen, trusted him, and could not have survived without him. Some of Stephen's responsibilities included bathing, dressing, medication reminders, and preparing pureed food. He gave us excellent suggestions in terms of a hospital bed and things that would make it easier for my father. They laughed and sang together, and I often watched my father's face light up when Stephen came into the room to care for him. My father was happy and content, and my mother and I give Stephen the highest possible reference.
- Michelle K., Pennsylvania
My father was 95 years old. He was a retired CPA and still of very sound mind. He had no particular illness, but he needed someone with him full time, and we hired Stephen to live in his house 24/7. Stephen was with my father from February 2020 until dad's death in July 2020. I lived about an hour away at the time, but came by frequently, both planned and unannounced. The house was always tidy and clean, and the refrigerator was always full. Stephen is easy to talk to and my dad enjoyed his company. Stephen made sure that he got outside as often as possible, even when it wasn't so easy. He facilitated conversations with the neighbors by putting a chair under some trees at the bottom of the driveway. Stephen was reliable, honest, trustworthy -- and physically strong. There were valuables in the house and they never were touched. When I offered suggestions about meals that I knew dad would like, Stephen learned how to prepare them. In the last few months, my father seemed to have trouble chewing, so Stephen started pureeing his food, and he was really good about reminding him to hydrate. I was so thankful that once the Covid shutdown occurred, Stephen FaceTimed often and kept in close touch with me. He's an excellent communicator. He also took on the house cleaning, as I didn't feel comfortable having anyone else come in to clean. In a nutshell, Stephen took care of my father in the best possible way and I recommend him highly.
- Susan S., Florida
Work Locations
Central New Jersey
Manhattan
Bronx
Brooklyn
Staten Island
Queens
Nassau
Westchester
Rockland
Northern New Jersey
Southern Connecticut
Specialities
Advanced Dementia
Alzheimer's
Cancer
Colostomy
Dementia
Depression
Diabetes
Feeding Tube
Hospice
Hoyer Lift
Mental Illness
Paralysis
Parkinson's
Wounds
Dietary Specialities
Diabetic
Feeding Tube
Low-fat
No Salt
Puree
Vegetarian
Degrees & Certificates
Home Health Aide, Licensed
Transportation to Job
Can Drive: Yes
Public Transportation: Yes
Car: Yes
Ready For Your
Free

Consultation?
CALL
Hours: 8am - 6pm x 7 days
(and after hours if you need us)
Serving Metro New York & Connecticut