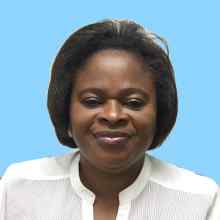 About Me
A friend of mine was doing caregiving work and she told me that she enjoyed the job so I decided to give this field a try. I've loved it ever since. I like to learn from my elderly clients because they have so much wisdom and experience. I love the fact that I get to meet different people with different backgrounds and learn about their culture and their way of life. I'm very calm and peaceful. I'm patient and understanding. I'm hard-working and punctual, and I love my job. I love music and I love to sing and dance. I love to read and I love to cook. I also love going to church.
Recommendations
Celestine is a great caregiver. She lived with my mother for a little more than a year from October 2014-November 2015. At that time, the agency said work laws had changed and she couldn't continue to work the extra hours she needed. We were sorry to see her go. She was caring, thorough, attentive and sweet. She was reliable and flexible. She was always clean, neat, and tidy, and helped mom always be neat, clean, and tidy, too. My mother has macular degeneration and is virtually blind. She also has no short-term memory, so having a full-time caregiver is a necessity. Celestine cooked and helped mom with whatever she needed. She and mom really hit it off well and enjoyed each other's company. I saw them together at least once a week, and I know that Celestine was there gave me great peace of mind. She's an optimistic and positive person and I highly, highly recommend her.
- Connie G., New York
My mother had dementia and was pretty much confined to her bed for the three years that Celestine lived with her (May 2011-May 2014). Celestine was very trustworthy and kept my mom in good shape. She took care of all of mom's personal needs, as well as cooking, laundry, and light housekeeping. She fed mom and gave her sponge baths. It was a difficult job, because we didn't have a Hoyer lift at the time. Celestine and my mom got along. and even though my mother couldn't speak, she always seemed to be comfortable around Celestine. I saw them about three times each week and was always happy with the care mom was getting. Since Celestine left, I've hired and fired three aides so I know how difficult it is to find someone like Celestine.
- Dominick N., New York
Specialities
Advanced Dementia
Alzheimer's
Brain Injury
Cancer
Cardiac Condition
Catheter
Dementia
Diabetes
Hospice
Hoyer Lift
Mobility
Oxygen
Paralysis
Parkinson's
Stroke
Wounds
Dietary Specialities
Diabetic
Low-fat
No Salt
Puree
Degrees & Certificates
Home Health Aide, Licensed
Certified Nurse Aide/Assistant, Licensed
Transportation to Job
Can Drive: Yes
Public Transportation: No
Car: Yes