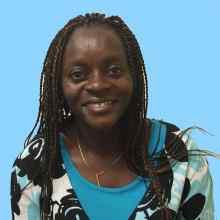 About Me
As a young girl growing up, I visited my grandparents in their village. My parents would send me to the well to get water for the elderly, who couldn't do it themselves. They told me that it brings blessings when I help others. As a teenager, I volunteered for Habitat for Humanity and built huts for the elderly and also for young orphans who lost their parents to HIV/AIDS. Next, I began to do international volunteer work with the International Cultural Youth Exchange Program. I travelled around Africa during my vacations. Then, I moved to the United Kingdom and I got connected with a care organization taking care of the elderly where I learned about Alzheimer's. That work gave me a lot of satisfaction. I know that when I have used my skills to care for seniors, they become like my grandparents. In the UK, I also took care of a 13-year-old girl with autism and then went back to my county and used the skills I learned. I worked with five children and still keep in touch with their parents. When you give your best, people will always remember you. Next, I decided to become a baby nurse. I was trained and went to work for a diplomatic family and eventually moved with them to the United States. I always want to better my life. I'm in school now to become a Licensed Practical Nurse. My last name means "patience" and I am a very patient person. I'm friendly - a person who goes above and beyond what is expected of me. I'm also funny and easy to talk to to, and I love to laugh. I'm an excellent communicator and a highly motivated individual who can work effectively with people from many cultures and backgrounds. In my spare time, I love to watch old movies and spend time on the Internet.
Recommendations
Since August 2014, Agnes has done fill-in work for my mom. My mother is a stroke victim who has comprehension issues. Agnes is a genuine, caring, and loving person who engages my mother. She does her nails and styles her hair and goes out of her way to connect with her. Agnes is responsible for hygiene and meals and other aspects of care. She is diligent and motivated and my mother really enjoys having her around.
- Wendy U., New York
Agnes took care of my father while he lived in assisted living. She worked there and she was his caregiver, but I also worked at the facility so I saw how well she took care of him. She is a sweetheart and was always very concerned about him and any of the people she worked with. If he didn't want to eat, which was an issue, she always let me know. I told her that he liked grapes and she was so patient with him and gave him one grape at a time so that he would eat. She is very caring. My dad has multiple health problems — COPD, he uses a walker, he has a heart condition and some memory loss. He's a big guy and sometimes argumentative but Agnes was very good with him. For one-on-one care, she will be fabulous; it suits her. Whoever hires her is going to love her. Someone who needs TLC will love her to pieces. And she's not a slacker, she does her work. She is very kind with a gentle soul.
- Marsha G., New York
Work Experience
K. Assisted Living, Patient Care Manager, NY
B. Assisted Living, Nursing Assistant, NY
Work Locations
Westchester
Southern Connecticut
Specialities
Advanced Dementia
Alzheimer's
Bipolar
Brain Injury
Cancer
Cardiac Condition
Deaf
Dementia
Depression
Developmentally Disabled Adults
Diabetes
Hospice
Hoyer Lift
Mobility
Newborns
Oxygen
Paralysis
Parkinson's
Special Needs Children
Stroke
Degrees & Certificates
Certified Nurse Aide/Assistant, Licensed
Home Health Aide, Licensed
Bachelor's of Environmental Management, Makerere University, Uganda
Transportation to Job
Can Drive: Yes
Public Transportation: No
Car: Yes