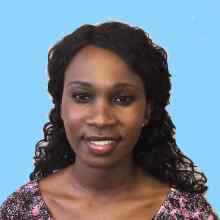 About Me
I'm a very caring person and I like to make people feel good. When I have the opportunity to help someone, I don't hesitate. In 2006, I was going to school and looking for work. My first client was a very sweet man. I took care of him for a year. Taking care of him reminded me of taking care of my grandmother back in Africa. It made me realize how doing little things for someone, like helping to button a shirt, could make a difference in someone's life. I've gained so much from working with the elderly throughout the years. I love hearing their stories. It's encouraging to see what they have been through and learn about their work ethic. It's rare to see people 90+ years old and that's encouraging to me to take care of myself now. I'm currently in school to get my nursing degree to become a Licensed Practical Nurse. When I'm not studying or working, I like to shop, dance, cook, and travel. My favorite place to travel to is France.
Recommendations
I suffer from chronic back pain. I've had four back operations and a hip replacement and am on heavy duty narcotics. Hortense worked for me for a little more than a year in 2014 and early 2015. One of her responsibilities was applying and removing my Fentanyl Transdermal System (narcotic patch). This is not something to play around with. She was excellent. Her knowledge of medications and what they are and how to use them is extensive. In addition, she has her own car and drove me to doctor appointments and to do errands, which was especially helpful. She also did the grocery shopping and light housekeeping. Anything I asked her to do, she did. She's very honest and immaculate about herself, her dress, and her surroundings. My pain is under control now, so Hortense does not work for me any more, but if I needed her, I would not hesitate to call her again.
- Carolyn A., New York, 05/2015
Hortense is wise beyond her years. She cared for my mother, who was in her 90s from 2007-2014. When she started, my mom just needed a companion, and as she lost her ability to function, Hortense was there to the end. My mother was a very difficult person, but she loved and trusted Hortense. She is gentle, very smart - quick, and intuitive - and patient. She knew just how to be lively enough to keep my mom from feeling down, but also understood what my mom needed. She went out of her way to make sure that my mother got to do the things she liked to do, from going shopping to stopping at Dunkin' Donuts. She made herself there for us. Hortense is not a big person, but she is physically strong, and was able to deal with anything that came along. I recommend her whole-heartedly.
- Judy Z., New York, 05/2015
Work Locations
Manhattan
Bronx
Brooklyn
Queens
Westchester
Long Island
Rockland
Northern New Jersey
Southern Connecticut
Specialities
Advanced Dementia
Alzheimer's
Blind
Brain Injury
Cardiac Condition
Catheter
Colostomy
Dementia
Diabetes
Depression
Feeding Tube
Hospice
Hoyer Lift
Mobility
Multiple Sclerosis
Oxygen
Paralysis
Parkinson's
Stroke
Trach
Wounds
Degrees & Certificates
Practical Nurse, Licensed
Transportation to Job
Can Drive: Yes
Public Transportation: No
Car: Yes