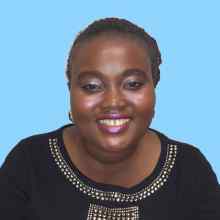 About Me
I decided to become a caregiver when my grandmother passed away. I didn't like the way that she was cared for, but I was too young to care for her myself. When I came to the United States, about 10 years ago, I decided to go get training to get my Home Health Aide license. I am very empathetic and very trustworthy. I care for my clients with dignity. I am very good with my clients, especially when the person is ill, because I have a passion for the job and I just love doing this. I love to care for people when they need my help. Being a good caregiver for somebody so they don't have to worry about their illness is something I like to do. My personality is very kind, honest, and caring. I like to smile. In my spare time, I love to go to shopping and I love to be on the computer to learn new things.
Recommendations
Ruth came into our home and brought light and joy and positivity, and I am so thankful for that. My mother suffers from rheumatoid arthritis and was hospitalized twice with serious infections. She was left very weak and unable to care for herself, so Ruth was her caregiver from October 2014-January 2015. In January, my father died and we made the difficult decision to move my mother to a facility. Our experience with Ruth could not have been any better. She was wonderful, not only for mom, but also for my father and for me. She brought them a lot of peace. She cooked and helped with personal care, and of course was reliable and always prompt, but most importantly, was encouraging and positive. Her happiness was infectious and the one-on-one care that she gave to my mother is sorely missed.
- Meg O., New Jersey
Ruth was my mother's caregiver from January 2015 until her passing in May 2015. Mom caught the flu and once she came out of the hospital she just wasn't the same. We put my mother in an assisted living facility in January and she needed 24/7 assistance. Ruth was her main aide along with another woman. Ruth helped mom get dressed and up, she put her in the wheelchair/walker in the beginning, but then mom became bedridden. Ruth took care of everything. Mom also had dementia. We loved Ruth because she pushed mom to go out and be social in the building. Ruth would take her to do activities and made sure that she got out of bed and did a little walking each day. Ruth was the one who encouraged mom to interact with the other residents in the building; she would invite some of the other ladies to come visit mom in her room. We really loved that about Ruth. Ruth has a big personality. She has a big smile and she is very gregarious. We really enjoyed having her and she and mom developed a very nice relationship. We appreciated all that she did for mom. I would visit almost everyday, unannounced, and I was SO happy with Ruth there with my mom. Without a doubt, I recommend Ruth as a caregiver.
- Stephen B., New Jersey
This is a high recommendation for Ruth, who was employed by our family for 3 years. Ruth came to us through an agency and came highly recommended as the perfect person to care for our ailing parents. Both of our parents had been having major health issues for approximately 10 years. Their illnesses included lung cancer, emphysema, dementia, stroke, diabetes, kidney failure, congestive heart failure, aphasia, and ileostomy. To be sure, this was a very complicated set of health issues to tackle, including keeping a schedule of activity, rest, medications and severe diet restrictions for reach parent. While I stopped in to check on my parents and Ruth regularly, Ruth lived with our parents 24/7 and spent the majority of time with them. Ruth burst into our family life with a smile, enthusiasm, respect, and joy. Ruth is both mentally and physically a strong woman who tackles issues head on deals with them and then moves on. Ruth is highly intelligent, and was quickly able to grasp the complexities with the case, and readily took responsibility and ownership of their care. If there were any problems or issues, Ruth was easy to approach, and she was always open to suggestions, corrections, and instruction. This openness makes her an invaluable asset to any organization. We found Ruth to be trustworthy, kind, and generous with our parents, but also with the three siblings who worked to assist in the care of them as well. She was able to handle three very distinct and strong personalities and ride the waves of family life with us beautifully. As with aging parents, there were many health emergencies. Ruth responded quickly, calmly, and positively. Countless ambulance trips, hospitalizations, and doctors visits were handled easily and we were always able to depend on her. During the 3 years that Ruth was with us, we all grew very fond of her. She became part of the family, and we continue to love and care for her very much. Ruth comes with our highest recommendation for not only personal care but also for any endeavor she might want to challenge herself with.
- Cathlyn D., New Jersey
Work Locations
Northern New Jersey
Central New Jersey
Specialities
Advanced Dementia
Alcohol or Drug Dependency
Alzheimer's
Bipolar
Blind
Brain Injury
Cancer
Cardiac Condition
Catheter
Colostomy
Deaf
Dementia
Depression
Developmentally Disabled Adults
Diabetes
Feeding Tube
Hospice
Hoyer Lift
Mobility
Multiple Sclerosis
Oxygen
Paralysis
Parkinson's
Stroke
Dietary Specialities
Diabetic
Feeding Tube
Gluten Free
Kosher
Liquid
Low-fat
No Salt
Puree
Vegan
Vegetarian
Degrees & Certificates
Home Health Aide, Licensed
Transportation to Job
Can Drive: Yes
Public Transportation: Yes
Car: Yes