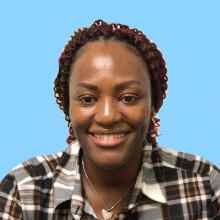 About Me
It's a funny story how I got started in the healthcare field. My cousin lived here in the United States before I did, and her physician that she went to as a patient loved her so much and always wanted her to help him out at home as a caregiver. I came to the United States in 2012, and that doctor called up my cousin again and asked if she could assist him at his home as his caregiver. My cousin wasn't able to help him but she suggested that I could help. That was my first experience working as a caregiver. Because of that, I have experience with Parkinson's. I loved working with that family. I still keep in touch with them and we go out to dinner. After that experience, I realized that I love caring for people. I know that my father and mother are still alive, so the care that I give to someone else, that's the care that I want someone to give to my parents. I always want to see my patients happy and I make sure to tell them that life is worth living. I like to make sure that my clients have fun, no matter how old they are. I have a very warm personality because I want to see others happy. I love smiling and interacting with my patients. I'm very encouraging. When I'm not working, I like to watch movies. I also love basketball, and I'm a huge Knicks fan. I love to go shopping, and I love to laugh.
Recommendations
Lorraine was my husband's caregiver for almost 3 years. She was with us from 2012 until he passed away in December 2014. My husband had Parkinson's so I needed assistance at night so I could get sleep. Lorraine lived with us for those 3 years, and I honestly can tell you that we couldn't get anyone better. Lorraine was just wonderful and we loved her. As I said, she would do the night shift, so she changed his diaper, and helped with bathing, taking his medicines, and everything in between. She is a hard-working, honest, and trustworthy person. I can't say enough good things about Lorraine. She is an absolutely wonderful human being. Her laugh is completely infectious. If I ever needed anyone, I would call her immediately.
- Eleanor P., New Jersey
In February of 2015, I fell on the ice and developed a bad infection in my leg. I couldn't walk, lost a lot of weight, and became very weak. I spent almost six months in a rehab facility and Lorraine was one of my caregivers. Without question, she was one of the best caregivers there. Her philosophy was to treat patients the way she would want her family members treated and she worked hard to do that. It was obvious to me that she does not do this job just for the paycheck. She really cares. I was in a very difficult situation and she made it as good as it could be. She always had a positive attitude, whether it was helping me with an ice pack, assisting me in the bathroom or washing me, or adjusting my food tray. I trust her implicitly and if I needed a caregiver at home, I would hire her privately. On a scale of 1-5, I would give her a 10.
- Felice R., New Jersey
Work Experience
Certified Nurse Aide, O. Health Care & Rehabilitation Center, NJ
Specialities
Advanced Dementia
Alcohol or Drug Dependency
Alzheimer's
Bipolar
Blind
Brain Injury
Cancer
Cardiac Condition
Catheter
Colostomy
Deaf
Dementia
Depression
Diabetes
Feeding Tube
Hospice
Hoyer Lift
Mobility
Multiple Sclerosis
Oxygen
Paralysis
Parkinson's
Stroke
Trach
Wounds
Degrees & Certificates
Certified Nurse Aide/Assistant, Licensed
CPR Certified through 2017
Transportation to Job
Can Drive: Yes
Public Transportation: No
Car: Yes