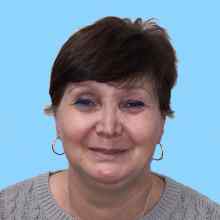 About Me
I came to America in 2003 and I decided to work with people because I like to help others. I like my job because I helped my grandmother and my mother before I left my country. When I started working with my patients, I stayed with them for many, many years and loved them as a family member. I try to cook my patients a nice meal. I talk with my patients about how they feel and how I can help them. I remind my patients about their own family and I show them pictures and talk with them. If we cannot go outside, I take them close to windows to show them what's happening outside. If we can go outside, I try to take them out, we walk to stores or go to the park and talk with people. I enjoy listening to music, especially Italian music. I really like Frank Sinatra, Dean Martin, and many different artists. When I'm not working, I enjoy spending time with my grandson and my family.
Recommendations
Liana was a live-in caregiver and cared for my mother-in-law for about 3 years, ending in 2015 when she passed away. My mother-in-law was bedridden, had dementia, and had a heart condition. At the end of her life, she couldn't walk at all. She became incontinent and would forget to eat. Liana was a lifesaver. She did everything for my mother-in-law and provided complete and total care. She assisted with cleaning and always made sure my mother-in-law's atmosphere was very pleasant. I can only say good things about Liana. She's loving and caring. She really became part of our family and she treated my mother-in-law as if she was her own mother. We really couldn't have asked for anyone better, and anyone would be lucky to have her.
- Arlene B., New Jersey
Liana cared for my mother for a few months near the end of my mother's life. My mother passed away in early March 2016. Liana was her full-time, live-in caregiver for those few months. My mother had dementia and COPD. Liana helped her with everything and anything. She has the patience of a saint. My mother was always an active woman, always doing needlepoint and on the go. But at the end, she really couldn't go anywhere or do anything. Liana wanted to keep my mother from getting bored and irritable so she suggested we get her puzzles to do. Every day, Liana found time to do these puzzles with my mother to keep her engaged. Another time, I can remember Liana jumped in the shower with me to help clean my mother. My mother was always immaculately clean because of Liana. I really can't give her enough praise and I recommend her without any hesitation.
- Carol L., New Jersey
Work Locations
Manhattan
Brooklyn
Queens
Long Island
Northern New Jersey
Central New Jersey
Specialities
Advanced Dementia
Alzheimer's
Cancer
Catheter
Dementia
Diabetes
Feeding Tube
Hospice
Hoyer Lift
Mobility
Oxygen
Stroke
Degrees & Certificates
Teacher's College, Pyatigorsk, Russia
Home Health Aide, Licensed
Transportation to Job
Can Drive: No
Public Transportation: Yes
Car: No