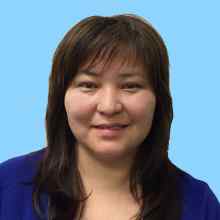 About Me
I like to help elderly people because they need care. I lost my grandparents when I was 10 years old, and I feel like this kind of work helps fill that void. I also like to care for the elderly because I like to hear about their past experiences. I like to be with the client and take care of them nicely. I like to be their "nurse" and assist them with anything they need. In the future, I would love to become a nurse. It makes me feel good helping people. I'm a kind and quiet person. I'm very loyal to my clients. I have a good heart. For fun, I love to cook. I also like to take walks and go camping.
Recommendations
I'm 86 years old and in good health. After my husband died, I didn't want to be alone in my home, so I hired Nargiza as a companion. I understand that she has home health aide training, but I don't need that expertise. I find her to be good company. She cooks and she cleans and she puts out my medicine in the morning. We go on walks together and to the movies and have pleasant conversations. Nargiza is a lovely person. She's been with me on the weekends for almost 6 months now, since December 2015, and I hope that relationship continues for a long time.
- Ina S., New York
Before Nargiza came to work with me, I changed home caregivers several times because I was not happy with them. Nargiza has been with me since June 2014 -- three years, and I hope she will be with me for a long time to come. I am a 70-year-old woman who is almost bedridden, though I can walk a little with a walker. I have no immediate family and am dependent on my caregiver. Nargiza is patient, careful, loyal, careful, ready to help, not argumentative, polite, active, and communicative. Nargiza does many things around the house and she cleans and cooks. She also helps me walk, goes shopping, and accompanies me to the doctor. She never refuses to do something if asked. I would definitely recommend Nargiza to others to help fill her time when she is not with me.
- Luda, New York
I am a 71-year-old man who had cancer. While I was in treatment in 2015, Nargiza was one of my caregivers. She worked an 8-hour shift and she did everything. She helped me with bathing and se cooked and cleaned. Nargiza is very compassionate and knowledgeable, and easy to get along with. She's a good person.
- Bill., New York
Specialities
Alzheimer's
Dementia
Diabetes
Mobility
Oxygen
Degrees & Certificates
Patient Care Technician, Certified
Nurse Aide/Assistant, Graduate
Home Health Aide, Licensed
Transportation to Job
Can Drive: Yes
Public Transportation: Yes
Car: No