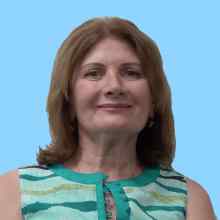 About Me
I have my Master's Degree in Internal Medicine from my country and I worked as a primary physician in the Republic of Georgia for 18 years. It was my childhood dream to be a doctor. I came to America in 2004 with my family due to my country's decline. I started my life all over. I began working as a a caregiver because I had to support my family. I immediately enjoyed doing this kind of work. I really like to help people. It's a calling for me to make someone's life better and to make a difference. I know exactly what my clients' need and how to care for them. The families that I've worked with have all been happy with me. I'm always working with the nurses and doctors to help my patient. I will always be an advocate for my patients. I'm a fun person, I'm full of energy, and I love life. For fun, I love swimming, going to the gym, reading, and writing. I love my line of work.
Recommendations
It is my pleasure to recommend Mzia as a professional aide. I have known her for over 6 years. I initially met Mzia in 2010 when my mother, who was in her 80s, required increased support. Mzia has a background as a medical professional. Most importantly, she is a genuinely compassionate, respectful, and responsible woman. Mzia takes her work very seriously. She is very punctual and skillful in all areas of patient care. When my mother passed away in 2013, Mzia began to take full care of my elderly neighbor and did so until her death in 2016. For my mother and for my neighbor, Mzia helped with showering, food shopping and preparation, light housekeeping, and special things like manicures and haircuts. She accompanied my neighbor on her doctor appointments and in general, was accommodating to anything that was asked of her. My neighbor was on hospice care for some time and was bedridden. During that time, Mzia took complete care of her, including wound care. Mzia is charming, personable, and cheerful, and her patients and their families trust her completely.
- Frieda G., New York
Mzia worked for my parents between the period of March 2005 and July 2008. She was a live-in aide and companion. Her duties included cooking and light housekeeping as well as tending to my elderly father. Mzia first came on the scene when my father was newly out of rehabilitation. He was in poor condition having previously had a stroke and then bed sores. He also lost a lot of weight. Many people didn't think he would last a month. Mzia took wonderful care of him. She helped take care of his bed sores. She was patient and kind to him when he was frustrated. Due to her skillful nursing, he was able to gain back all of the weight he had lost. She always kept him clean and neat looking. When my father passed away in March 2008, Mzia helped take care of my mom until the end of July. Mzia is very intelligent, honest, and a capable woman. My family misses her.
- Lynne H., New York
Specialities
Advanced Dementia
Alcohol or Drug Dependency
Alzheimer's
Brain Injury
Cancer
Cardiac Condition
Catheter
Dementia
Depression
Diabetes
Feeding Tube
Mobility
Oxygen
Paralysis
Parkinson's
Stroke
Wounds
Dietary Specialities
Diabetic
Gluten Free
Low-fat
No Salt
Vegetarian
Degrees & Certificates
Medical Doctor, Tbilisi State Medical University, Republic of Georgia
Medical Assistant, Graduate
Home Health Aide, Licensed
Transportation to Job
Can Drive: No
Public Transportation: Yes
Car: No
Ready For Your
Free

Consultation?
CALL
Hours: 8am - 6pm x 7 days
(and after hours if you need us)
Serving Metro New York & Connecticut