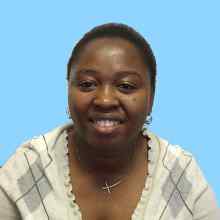 About Me
In Ghana, we don't send our grandparents to a facility. We take care of them ourselves and that's how I first learned to be a caregiver. I came to the United States in 2012, and I started to do this kind of work. Sometimes the clients are very funny and they share stories and their experiences. I love to hear about it all. I also enjoy hearing about their past. I'm proud to work with the elderly. I like to give them what they need and help them with things that they can't do for themselves. I make them happy, and I smile a lot. I don't get angry too easily. I have a lot of patience. I also don't talk too much, but I'm also not too quiet. For fun, I like to watch movies and listen to music.
Recommendations
Linda was my mother's caregiver for about a year and a half, ending in April of 2016. My mother was very ill -- she was blind, had pulmonary hypertension and diabetes, and at the end of her life, dementia. Linda was with my mother 24/7. In the beginning, before the dementia, Linda dressed my mother very nicely and made sure she was impeccably clean when they went out together. Linda also prepared meals and managed the medications. She really took excellent care of my mother. She's extremely trustworthy and we never questioned anything. She was there for my mother and there for us. She came to my mother's funeral and stayed in touch with us after my mother passed away. I absolutely recommend her.
- Cheryl S., New Jersey
Linda took care of my mom from 2012-2014. My mother had dementia and we needed someone to be around her all the time. Linda assisted her with her medications, cooking, light housekeeping, and laundry. Linda is very nice and friendly, and an all-around wonderful lady. She's very respectful and doesn't mind doing what you ask of her. I recommend her to anyone.
- Ophelia M., New Jersey
Work Locations
Northern New Jersey
Central New Jersey
Specialities
Advanced Dementia
Alzheimer's
Blind
Cancer
Cardiac Condition
Catheter
Colostomy
Dementia
Depression
Developmentally Disabled Adults
Diabetes
Hospice
Mobility
Oxygen
Paralysis
Parkinson's
Stroke
Dietary Specialities
Diabetic
Kosher
Low-fat
No Salt
Puree
Vegetarian
Degrees & Certificates
Home Health Aide, Licensed
Transportation to Job
Can Drive: Yes
Public Transportation: No
Car: Yes
Ready For Your
Free

Consultation?
CALL
Hours: 8am - 6pm x 7 days
(and after hours if you need us)
Serving Metro New York & Connecticut