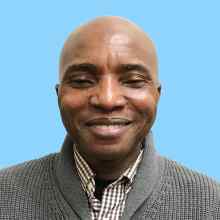 About Me
I took care of my parents when they aged. I am the youngest in my family, so I stayed with them. I cooked for them and maintained the house. I grew up taking care of them, and when they were getting older, I had that attachment to them. After they passed away, I realized that other people need assistance. I am a compassionate person. I know there's a lot of sicknesses out there, so I want to assist others who need the help. Being a caregiver is something that comes naturally, and it propelled me to go into this field. I'm not a quick-tempered person. I'm down to Earth, and I'm very detailed oriented. I do my job very seriously. I make sure that my clients are always safe, and I don't easily give up. I'm accommodating and tolerant. I try to treat people the way that I want to be treated. For fun, I like reading. I also like going on picnics and I enjoy watching movies and listening to soft music.
Recommendations
Josiah has the unique and wonderful combination of ability and character. He is truly patient, caring, and observant, always watching for subtle changes in the patient's progress. My husband suffers from colon cancer and Josiah cared for him from September to December 2016. After being released from the ICU and rehabilitation, Josiah came in daily to assist with bathing, changing, and getting him ready for bed. He was willing to do whatever he could to make my husband more comfortable. Josiah was adept at knowing when to be involved and when to step away. My husband really enjoyed Josiah's company and they developed a good rapport. We were very sad to see Josiah leave. I highly recommend him as a caregiver; he was terrific.
- Esther F., New Jersey
My 85-year-old father lives alone, and he is cognitively disoriented and physically limited. Dad can be erratic, moody, and quite difficult at times. Josiah was great at redirecting and handling his mood swings. He was always prompt, reliable, sociable, and professional. Josiah did the overnight shifts for about six months in 2016, keeping Dad safe and comfortable. He cooked, cleaned, and took care of all of my father's daily living needs. I strongly recommend Josiah as a caregiver as he is a very capable person.
- Larry S., New Jersey
Work Experience
JFK Hartwick At Edison Estates
Work Locations
Manhattan
Westchester
Rockland
Northern New Jersey
Central New Jersey
Specialities
Advanced Dementia
Alzheimer's
Bipolar
Blind
Brain Injury
Cancer
Catheter
Colostomy
Dementia
Depression
Developmentally Disabled Adults
Diabetes
Hoyer Lift
Mental Illness
Mobility
Oxygen
Paralysis
Parkinson's
Stroke
Dietary Specialities
Celiac
Kosher
Liquid
Low-fat
No Salt
Vegan
Degrees & Certificates
Nurse Aide/Assistant, Graduate
Home Health Aide, Licensed
Transportation to Job
Can Drive: Yes
Public Transportation: No
Car: Yes
Ready For Your
Free

Consultation?
CALL
Hours: 8am - 6pm x 7 days
(and after hours if you need us)
Serving Metro New York & Connecticut