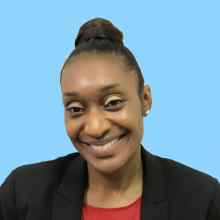 About Me
I started working in this field in 2010 because I wanted to help others in need. I like to provide one-on-one companionship and to provide assistance so my clients can continue to live their normal, daily lives. I like to learn about my clients' past experiences and hear their stories. I do anything to make my clients happy. We can go for walks, go out for ice cream, watch movies, go for a drive, go out to eat, or go to museums. Whatever it is that I can do to maintain their happiness, I am willing and able to do. I'm warm, compassionate, and easy going. I'm definitely a people person and a very good listener. I'm very calm if there is a crisis at hand. I'm honest and open minded. For fun, I love to shop and exercise. I also love to travel.
Recommendations
Stacy was my mother's caregiver from November 2017 until January 2018. My mother lives in assisted living and has some dementia. She took a fall in November and landed on her knees. Thank goodness nothing was broken, but she had to have about 30 stitches in one knee and 40 in the other. We needed 24-hour care for her after the fall, and that's when Stacy came in. She would come in at nights and sometimes during the day. Stacy assisted my mother with practically everything. She also monitored my mother and kept a log of her behaviors as well as medications being taken. She would come to doctor appointments with me, also. Stacy is a very reliable caregiver. You can tell that she's different from other aides. She never had her headphones in her ears, and she never was unpleasant about and annoyed about doing her job. In fact, she's the type of person who is actually interested in helping someone heal and get better, and that is what she did for my mom. We also liked that Stacy was engaging with my mother, and she would push her to go to activities when she was able to again. My mother recovered quickly with Stacy's care, and I told her that if we need her again in the future, she's the person I'm going to be calling.
- Susan B., Connecticut
My mother had early onset dementia and COPD and when she couldn't be alone anymore, we hired Stacy to be with her on the weekends. She worked with mom for about two years in 2010-2012. As my mother's needs increased, we needed more coverage for her, and we were sorry that Stacy wasn't able to work longer shifts. She was a very caring and attentive companion. She did what needed to be done to maintain mom's oxygen supply, reminded her about her medications, cooked, kept her home tidy, and drove her to the store and on errands, using her own car. She was always on time and did a great job of communicating with me. At the end of each day, she let me know how my mother's day was, and if she had any concerns. My mother was not an easy person to befriend, but Stacy was very patient and they developed a nice relationship. I remember being impressed when Stacy took mom to a church function and mom got agitated. Stacy was able to diffuse the situation and kept my mother from embarrassing herself. We were very blessed to have Stacy as a caregiver for my mother and absolutely would recommend her.
- Rosalie J., New York
Work Locations
Manhattan
Westchester
Rockland
Northern New Jersey
Southern Connecticut
Specialities
Advanced Dementia
Alzheimer's
Bipolar
Blind
Cancer
Dementia
Depression
Developmentally Disabled Adults
Diabetes
Hospice
Mental Illness
Mobility
Oxygen
Special Needs Children
Stroke
Wounds
Dietary Specialities
Diabetic
Gluten Free
Kosher
Low-fat
No Salt
Vegetarian
Degrees & Certificates
Nurse Aide/Assistant, Graduate
Patient Care Technician, Graduate
Transportation to Job
Can Drive: Yes
Public Transportation: No
Car: Yes