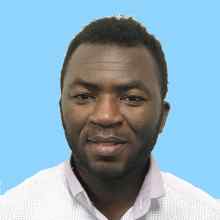 About Me
I love taking care of people because I learn a lot from my clients. They motivate me, too. I'm a very calm person. I'm also very polite and I respect people, always. I make my clients laugh and make them happy. We have fun together. I love to cook for them, also. For fun, I love to play soccer, basketball, and ping pong.
Recommendations
Maxwell was a caregiver and companion and lived with my father for the last seven months of his life. My father died in December 2016 at age 98. He was blind and not so strong, but his mind was sharp as a tack. I can't say enough good things about Maxwell. He was kind, respectful, trustworthy and charming. He and dad engaged in meaningful conversations. Sometimes I would walk into the house and hear them laughing together, and I know that my father gave Maxwell lots of advice. My parents had been married for 68 years, and when my mother died, my father was very lonely. The previous caregiver kept him safe, but Maxwell kept him safe AND was great company for dad. Some of Maxwell's other responsibilities included laundry, light housekeeping, helping dad bathe, and serving food. (Maxwell is able to cook, but I did most of the cooking.) Dad was always clean and neat, and so was the house. I have experience with many caregivers and I consider Maxwell the cream of the crop. At the end, Maxwell's choice was to sleep in the living room so he could be closest to dad, rather than in the bedroom he had upstairs. That's just another example of why I recommend Maxwell without hesitation.
- Maria S., New York
Maxwell has been caring for my father for almost six months. He started in mid-December 2016. My dad is now 103 and was in good physical and mental shape until he fell and hit his head, sustaining a subdural hematoma. That affected his thinking and he now needs 24/7 care. Maxwell lives in my father's home three days a week. He is a sweet and gentle man, physically strong, and pleasant and easy to be around. Sometimes dad gets angry and frustrated, but Maxwell is very patient and stays low key. He helps dad bathe and dress, prepares his meals, and uses my dad's car to take him out. He prepared a meal for us this weekend, so I can attest that he is a good cook. My father used to make up silly languages to amuse us, and when Maxwell found out about that, he began using made up words to engage and connect with dad. I was very impressed with that. Maxwell and dad also watch soccer on TV and Maxwell helps dad exercise. I like him and feel confident in recommending Maxwell as a caregiver.
- Kathy N., New York
Work Locations
Brooklyn
Staten Island
Queens
Long Island
Westchester
Rockland
Northern New Jersey
Central New Jersey
Southern Connecticut
Specialities
Advanced Dementia
Alcohol or Drug Dependency
Alzheimer's
Bipolar
Blind
Brain Injury
Cancer
Cardiac Condition
Catheter
Colostomy
Dementia
Depression
Developmentally Disabled Adults
Diabetes
Hospice
Hoyer Lift
Mental Illness
Mobility
Multiple Sclerosis
Oxygen
Paralysis
Stroke
Trach
Wounds
Dietary Specialities
Celiac
Diabetic
Gluten Free
Liquid
Low-fat
No Salt
Puree
Degrees & Certificates
Associate's in Healthcare Management, Globe Institute of Technology, New York
Home Health Aide, Licensed
Personal Care Aide, Licensed
Transportation to Job
Can Drive: Yes
Public Transportation: No
Car: Yes
Ready For Your
Free

Consultation?
CALL
Hours: 8am - 6pm x 7 days
(and after hours if you need us)
Serving Metro New York & Connecticut