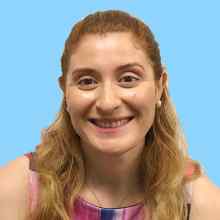 About Me
I was born in the Republic of Georgia and I was a very good student, and I have always loved learning. I was a journalist in Georgia for a TV program for about 2 years. After receiving my Master's degree, I came to America to get my PhD. Because of a family emergency, I had to stop school, but I'd love to finish one day. When I have free time, I write articles about America. I really love to write. I have a book that is ready to be published. I support my family back home, so I decided to do caregiving. I care about people and I'm very sensitive. I'm very caring towards my clients. It's easy for me to get along with others because I'm a very friendly person. I like to treat my clients like my family, and we have fun together. My goal is to make them happy -- so we talk together, share stories, and I make sure they are comfortable. I like to share with people. I'm always ready to help everyone who needs my assistance. I'm very hard-working and full of energy. I like to sing old Italian songs. I also love to cook. When I lived in Italy, I learned Italian cooking, so it is my speciality. I also like to do exercises in the morning, and I try to include my client.
Recommendations
Sissy lived with my mother Monday-Friday from February 2016 until the end of June 2016. Mother is a super-thrifty, serious-minded, and opinionated 90-year-old and Sissy is very bright, but a light-hearted, fun, and interesting young woman. It was not a perfect match for my mother, but I loved being around Sissy! She left because we could not keep up with the expense of a full-time live-in caregiver. Mother had multiple medical issues (diabetes, arthritis, osteoporosis, and balance) that meant she could not live alone, though she did many things for herself. Sissy helped with cooking and meds, took mom for walks, and did light housekeeping. She was reliable and trustworthy and I wish her lots of luck in her future endeavors.
- Patricia L., New York
"CC", as we called Sissy, lived with my mother-in-law and worked as a Health Care Aide for her for about two years from 2012-2014. When my mother-in-law was hospitalized, we didn't know how long it would be, and encouraged CC to find other work -- but we would absolutely hire her again. CC is an honest, intelligent, caring and highly motivated person. She strives to excel in everything she does. She is a self-starter and actually goes above and beyond what is expected of her. Most importantly, she was kind to my mother-in-law and was a good companion. That had not been our experience with other caregivers. CC was always "present" for mom. She likes to cook and she is animated and engaging, which was important to us. My mother-in-law was unsteady on her feet and used a walker, and she had short-term memory issues. CC prepared meals and helped with other activities of daily living. My experience indicates that anyone hiring her would be lucky to have her.
- Paul L., New York
Work Locations
Manhattan
Brooklyn
Staten Island
Queens
Long Island
Westchester
Southern Connecticut
Specialities
Dementia
Diabetes
Depression
Degrees & Certificates
Master's in Political Science, University of Florence, Italy
Bachelor's in Historical Culture, Tbilisi State University, Republic of Georgia
Transportation to Job
Can Drive: Yes
Public Transportation: Yes
Car: No