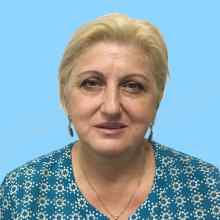 About Me
I came to the United States in 2004. I was a music teacher in the Republic of Georgia but I still had a passion to be a doctor or a nurse. Although I couldn't achieve th0se dreams, within me, I knew somehow, someway I could still help the sick and the needy without being a nurse or a doctor. That was when I decided to earn my Home Health Aide certificate. I have been an aide since 2008. Throughout these years my clients have never been disappointed in my services. I am very honest and kind. Making my client happy and comfortable is my priority. I am always involved in activities that make my clients happy. I love music, cooking, crocheting, sewing, and outdoor activities.
Recommendations
My aunt was in her late 90s in 2013, when she did serious damage to her leg. She was in rehab, but it was obvious that she was not going to walk again. She wanted to go home alone, but I insisted that she have help and we hired Mzia. Mzia was with my aunt until she died in 2015. They had a lovely relationship and the most important thing to me was that my aunt adored Mzia. Mzia was a wonderful companion. She helped with personal care, laundry, very light housekeeping, and cooking. Eventually, Mzia took over the food shopping as well. She used her own car for groceries and other errands, but my aunt rarely left the house, so they didn't drive together. Mzia is a sweet lady who is very caring. She was trustworthy with money, and I really appreciated that she communicated with my cousin or with me when she noticed changes in my aunt's health. My aunt liked to look good and Mzia made sure she was dressed, with earrings, make-up, and a nice hairstyle. Mzia even trimmed her hair. She knew what my aunt liked and she did her best to keep her happy. Mzia also helped my aunt keep in touch with nieces and nephews who lived far away. I would recommend Mzia as a companion and caregiver, without hesitation.
- Barbara W, New York
Mzia is excellent. She was a 24/7 live-in aide for my mother from July 2015-July 2016 when she passed away. My mother was 95 and had dementia. She was living in her own home, and we decided to hire a caregiver so she could stay there. Mzia would help with cooking, cleaning, taking her out to appointments, and everything in between. Mzia is a very warm person and took the time to get to know my mother. My mom thought of Mzia as an old friend. Mzia would bake for my mother, take her to the park, or play old songs -- anything that would interest my mother. Mzia was with us right through the end when we had hospice come in. She was an angel and really helped us out tremendously. I recommend her highly.
- Maria B., New York
Work Experience
Independent Living Center
Work Locations
Manhattan
Brooklyn
Queens
Long Island
Specialities
Advanced Dementia
Alzheimer's
Brain Injury
Cancer
Colostomy
Dementia
Depression
Diabetes
Feeding Tube
Hospice
Hoyer Lift
Mobility
Oxygen
Parkinson's
Stroke
Degrees & Certificates
Home Health Aide, Licensed
Physical Therapy Aide, Graduate
Transportation to Job
Can Drive: Yes
Public Transportation: Yes
Car: Yes
Ready For Your
Free

Consultation?
CALL
Hours: 8am - 6pm x 7 days
(and after hours if you need us)
Serving Metro New York & Connecticut