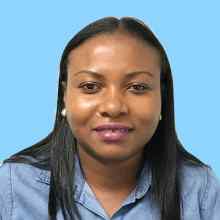 About Me
I like helping people. It's a very rewarding job and field, especially if someone isn't doing well, and I can feed them, care for them, and see them get better -- I just love that. I love to help people become independent, if they are able. My clients like when I put lotion on them or give them a massage. I am very gentle with my clients. I'm patient and hard-working. I like to please the client and make them happy at all times. In my spare time, I like to read. I like to stay up to date with the news and politics. I'm easy going and easy to get along with.
Recommendations
I am the supervisor and R.N. charge nurse on the floor of the nursing facility that Nicola has worked at since 2013. She is a professional, punctual, competent, and caring caregiver. Nicola is friendly and the clients get along quite well with her. She is very attentive to their needs and is a good communicator. I am happy to have her on my staff and recommend her as a caregiver.
- Ethel S., RN, New York
When my mother was 89, she fell and sustained a very serious head injury. This injury caused dementia-like symptoms which remain with her two-and-a-half years later. Nicola, who we called Nicole, was her caregiver from August until October 2016. My mom lives in an assisted living facility and Nicole came in a few days a week. She assisted mom with her daily medications, took her to the dining room, and fed her when she was unable to make it to meals. My mother was always a very headstrong person and the accident only exacerbated the situation. Nicole had a wonderful way of redirecting mom and making her more comfortable. She is a lovely, patient, and forthright person. I felt extremely confident knowing that Nicole was caring for my mom.
- Ellen H., New York
Work Locations
Westchester
Southern Connecticut
Specialities
Advanced Dementia
Alzheimer's
Bipolar
Blind
Brain Injury
Cancer
Cardiac Condition
Catheter
Colostomy
Deaf
Dementia
Depression
Developmentally Disabled Adults
Diabetes
Feeding Tube
Hospice
Hoyer Lift
Mental Illness
Mobility
Multiple Sclerosis
Newborns
Oxygen
Paralysis
Parkinson's
Stroke
Trach
Wounds
Degrees & Certificates
Certified Nurse Aide/Assistant, Licensed
Transportation to Job
Can Drive: Yes
Public Transportation: No
Car: Yes
Ready For Your
Free

Consultation?
CALL
Hours: 8am - 6pm x 7 days
(and after hours if you need us)
Serving Metro New York & Connecticut