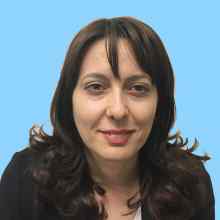 About Me
I was born and raised in the Republic of Georgia. I have a bachelor's degree in economics and management, and I used my degree to work at a bank. I moved to the United States in 2008. When I came here, I started working as a nanny and later became a caregiver. I became a caregiver because of the love I have for people. I love taking care of people and making sure every individual I care for is comfortable and happy at the end of the day. I always get my clients involved in activities that promote their health. Also, I try to make them as independent as possible. I always assist my clients with cleaning, laundry, going with them to their appointments, and assisting them with their medication. I am very hard working, reliable, honest, very clean, and a good listener. My hobbies are reading any kind of books and listening to music.
Recommendations
Natia is my mother's current caregiver. She's been with us since about June 2017 (it's currently February 2018). My mother is on 24-hour oxygen and she's very frail. She needs assistance in her everyday life. Natia comes in for a few hours a day and she's great. She's very eager and anxious to please you, so she will do anything. She's extremely honest and she's a very sweet girl. She helps my mom with food shopping, getting dressed, and showering. I have no complaints about Natia and I highly recommend her.
- Jane W., New York
Natia worked for a family that I have been assisting for the last 18 years, so I sort of am like the power of attorney. She was with Mr. and Mrs. B for about one and a half years recently. Mrs. B has Parkinson's and Mr. B has dementia. Natia was there mostly for helping Mrs. B, but Mr. B is the type that needs attention, and Natia was able to balance her attention with both. Natia would assist Mrs. B with her morning routines and getting her ready for the day. She also cooked and prepared meals for them both. Natia is very sweet, genuine, and caring. She fits the caregiver description perfectly, and I believe she has the personality for this job. She really cares about her clients and others around her. We definitely recommend her services.
- Ingrid H., New York
Work Locations
Manhattan
Brooklyn
Queens
Long Island
Westchester
Specialities
Advanced Dementia
Alcohol or Drug Dependency
Alzheimer's
Dementia
Depression
Diabetes
Multiple Sclerosis
Oxygen
Parkinson's
Stroke
Dietary Specialities
Diabetic
Gluten Free
Low-fat
No Salt
Vegetarian
Degrees & Certificates
Bachelor's in Economic and Management, Tbilisi State University, Republic of Georgia
Home Health Aide, Licensed
Transportation to Job
Can Drive: Yes
Public Transportation: No
Car: No