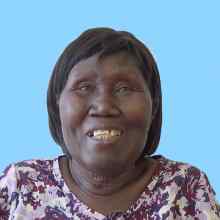 About Me
I really enjoy helping people. I started by taking care of my own parents and decided that it would be a good career choice. From my country, I have a bachelor's degree and a master's in education, focused on counseling. In the United States, I earned my Home Health Aide certification and I started working as a caregiver. I enjoy hearing my clients stories and I like being a companion. I want to see my clients happy and I want to help them enjoy their later years of life. My clients say that I am a hard worker, honest, and dedicated.
Recommendations
Anna took care of my relative when her live-in caregiver became unable to continue doing so. Anna was a superb caregiver, companion and liaison for her charge. We were extremely grateful that it was she who attended my former mother-in-law the last two weeks of her life, and also was with her at her time of passing. Anna is not only an exceptionally skilled caregiver, she delivers and administers duties with the touch of an angel. We have been very blessed to have had her help and expertise when we most needed professional direction. Under her care our loved one was well tended for, and in turn giving us enormous peace of mind. Anna is beyond trustworthy, thorough and capable, and most worthy of our gratitude praise, and this referral.
- Paul O., New Jersey
We are recommending Anna as a dependable, respectful, and efficient caregiver. She was with us for about 6 weeks from the middle of March to end of April taking care of me when he was released from physical therapy and we appreciated her work with us.
- Richard K., New Jersey
Anna was a live-in health care aide for my husband, Charles, for about six weeks. I was pleased with Anna. She was very good with my husband and also was honest. She became part of my family and we all enjoyed her.
- Mary L., New Jersey
I have known Anna for about three years. She is a member of our church, and I have found her to be honest, hard working, and dependable. Anna is a woman of integrity, and pleasant to be around. She is clean in her person, and in her thinking. She is a fine Christian woman and I believe that she would be a great asset to you.
- Rev. Bruce W., Pastor, New Jersey
Work Experience
Home Health Aide, Atlantic Private Care, NJ
Home Health Aide, Instacare Home Health Solutions, NJ
Home Health Aide, Hands to Help Home Care, Inc., NJ
Work Locations
Manhattan
Bronx
Brooklyn
Queens
Westchester
Northern New Jersey
Central New Jersey
Specialities
Advanced Dementia
Alzheimer's
Bipolar
Cardiac Condition
Catheter
Dementia
Diabetes
Depression
Feeding Tube
Hospice
Mental Illness
Mobility
Oxygen
Paralysis
Parkinson's
Stroke
Wounds
Degrees & Certificates
Home Health Aide, Licensed
Master's of Education (Counseling), Njala University, Sierra Leone
Transportation to Job
Can Drive: No
Public Transportation: No
Car: No