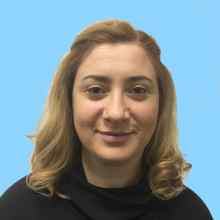 About Me
I was born and raised in the Republic of Georgia, where I earned a bachelor's degree in foreign languages. I was a private English teacher for 2 years and a translator for 10 years. I volunteered at a special needs school for children for a year and later moved to the United States in 2013. In the same year, I became a caregiver. I feel comfortable in this field, and I always enjoy when I make my clients happy and comfortable. I am very honest and quick to attend to my client's needs, and I am a loving person. I never say "no" to my client. I take them to their appointments, remind them to take their medications, and also help them to follow their doctor's recommendations. For fun, I love to go to the movies and read good books, and I also love photography.
Recommendations
It is with pleasure and without reservation that I recommend Tamara. From February 2017 to January 2018 when he passed away, Tamara cared for my widowed father. She worked with compassion and competence, at a very difficult time for my father, my sister, and me. She proved to be trustworthy, dependable, patient, and kind. She quickly established a caring and respectful relationship with my father and anticipated his needs. She managed my father's complex medicines and dispensed them meticulously on time. She ensured that he was always comfortable and well cared for. Tamara has a calm disposition, which she maintained at trying times (frequent nighttime awakenings and a couple of episodes of delirium.) She showed good judgment regarding when to call (and when to text or email.) She recognized what was urgent and triggered the appropriate resources. Tamara is proficient in written and spoken English. She maintained good working relations with the staff at my father's building and others caring for my father. We now consider her family. I offer my highest recommendation for Tamara and know that her prospective employers will not be disappointed.
- Alexandra G., New Jersey
I had the pleasure of meeting and hiring Tamara to care for my 91-year-old mother from 2015-2016. My mom was 100% dependent for all her daily needs as she was unable to walk and was non-verbal due to Alzheimer's. Tamara was quick to assess the situation and follow pre-set directions. More importantly, she was eager to share pertinent information that she felt would be relevant to helping my mom be more comfortable. She has a very caring attitude towards her patient, and was able to make my mom smile on multiple occasions and engaged her in coloring and other tactile activities. She was responsible for medications and nebulizer treatments 3 times per day. Tamara also has knowledge and command of the proper use of the Hoyer lift, which she used to lift my mother from the bed to the wheelchair. Of course, her household skills such as cooking, laundry, and cleaning were well above average. She took on each task independently without coaching. One outstanding feature is her clear and precise command of the English language. I recommend her highly.
- Suzanne A., New Jersey
Work Locations
Brooklyn
Long Island
Manhattan
Specialities
Advanced Dementia
Alzheimer's
Catheter
Dementia
Depression
Diabetes
Hospice
Hoyer Lift
Oxygen
Paralysis
Parkinson's
Stroke
Dietary Specialities
Diabetic
Feeding Tube
Gluten Free
Kosher
Liquid
Low-fat
No Salt
Puree
Degrees & Certificates
Bachelor's in Foreign Languages, Ilia State University, Republic of Georgia
Home Health Aide, Licensed
Transportation to Job
Can Drive: Yes
Public Transportation: Yes
Car: Yes
Ready For Your
Free

Consultation?
CALL
Hours: 8am - 6pm x 7 days
(and after hours if you need us)
Serving Metro New York & Connecticut