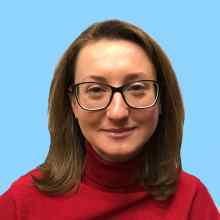 About Me
I immigrated to the United States in 2007 and then I earned my home care certificate right away. I have worked privately since that time. It's very important for me that my clients are comfortable with my service. It's also important to have an open relationship with my clients. I like to create warm relationships with people. I'm very responsible and respectful, and I appreciate being respected back. When I'm not working, I love skiing, playing tennis, going hiking, and swimming. I also love going to Russian spas. I recently took a trans-Atlantic trip for 2 months and it was an amazing experience. I started in Cuba and ended in Palma de Majorca.
Recommendations
Natalya was my mother's caregiver for almost 2 years, ending in 2017 when she passed away. My mother was not doing well at the time and my brother and I decided that we needed an extra set of hands to help take care of her. Natalya did everything for my mom. She took her to doctor appointments, bathed and dressed her, and managed the house. We had someone prior to Natalya that was very lazy and all around awful. Natalya was the total opposite and it was really important to me how neat and efficient she was with my mother. We loved that Natalya was outgoing with my mom and helped to keep her mind sharp by talking with her about the grandchildren. Natalya is very active and that's the type of person we needed for my mom at the time. We all loved and appreciated the work she did. She was flexible and accommodating to our schedules even if we had to make last-minute changes. She was great for us and I would recommend her highly to anyone.
- Tueta T., New Jersey
Natalya was my parents' companion from around 2013-2016. My parents didn't have any major health issues at the time, but both my sister and I could not manage their lives and our own lives at the same time, so we hired Natalya to assist us. My parents and Natalya clicked right away. My mother loved when Natalya would bring her to the beauty salon and they would go to Bingo together on Wednesday nights. Natalya is an extremely clean person and the house was always spotless. There was a night and day difference between Natalya and the aide we had before her. My mother hated the previous aide because she would sit around on her phone. Natalya was just the opposite and extremely engaging and interactive with both of my parents. They considered her to be their youngest child and she really was family to us. Natalya has a great attitude and a funny personality. She was on top of making sure my parents were healthy and would schedule doctor appointments when she felt like things weren't right. I decided to move my parents into a facility and that's when Natalya stopped working with us. My mother and father still ask about Natalya and miss her all the time. I can't recommend her highly enough -- she was great with us and will be great with anyone that chooses to hire her.
- Eri D., New Jersey
Work Locations
Manhattan
Northern New Jersey
Central New Jersey
Nassau
Westchester
Rockland
Southern Connecticut
Specialities
Advanced Dementia
Alzheimer's
Bipolar
Blind
Brain Injury
Cancer
Cardiac Condition
Deaf
Dementia
Depression
Diabetes
Mental Illness
Multiple Sclerosis
Newborns
Oxygen
Paralysis
Parkinson's
Stroke
Dietary Specialities
Celiac
Diabetic
Gluten Free
Kosher
Liquid
Low-fat
No Salt
Vegan
Vegetarian
Degrees & Certificates
Master's in Finance, Kherson State University, Ukraine
Home Health Aide, Licensed
Transportation to Job
Can Drive: Yes
Public Transportation: Yes
Car: Yes
Ready For Your
Free

Consultation?
CALL
Hours: 8am - 6pm x 7 days
(and after hours if you need us)
Serving Metro New York & Connecticut