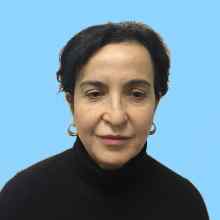 About Me
I was born and raised in the Republic of Georgia, where I earned a bachelor's degree in nursing. I worked as a nurse in a private clinic for more than 3 years. I decided to become a caregiver because it was a job that that was close to my previous job as a nurse. Also, taking care of my mother for more than 6 years made me develop the love and passion to work directly with people, especially the sick and the elderly. I love helping people, and making them comfortable no matter the situation or the place they find themselves in. I always put myself in their shoes and that has helped me to treat them like my own family. I treat my clients with respect, the way I want to be treated. I always groom my clients properly for them to look their best. I am very caring, funny, and very polite. I am very observant. This has helped me to notify both my clients' medical professionals and their families when something is not right or when I notice changes in my client's health. I always give my clients their privacy, involve them with activities that will make them active and independent if possible, and always motivate them to do their best. In my spare time, I love to go to the movies or museums. I also enjoy nature and going for a nice walk.
Recommendations
Lali cared for my mother from November 2016 until she passed away in June 2017, living with her on the weekends. Lali took excellent care of my mother as she declined from physical independence to total dependence on care, and she was with my mother when she passed away. She provided wonderful, experienced, compassionate care as her needs increased. When Lali began, my mother was very resistant to having a caregiver, but Lali charmed her and was good company for my mother, and she accepted Lali as a visiting friend. As my mother's condition deteriorated, I saw how skilled Lali was at meeting her physical needs. She gave her showers or washed her, prepared meals and fed her, attended to her personal needs, and made sure she looked her best. For the last three months, Lali also supervised a second, less experienced caregiver and she communicated well about my mother's condition with the caregivers working on different days. Lali is a very intelligent and caring woman who will take excellent care of a loved one, take the initiative to recommend whatever is needed to enhance the individual's care, and communicate effectively with physicians and family. Because I live in the same building in which my mother lived, I usually visited several times a day and had ample opportunity to see Lali interacting with my mother. I am happy to recommend Lali as an excellent and very experienced caregiver.
- Linda F., New York
Lali came to work for my family in November 2015. My father, a Holocaust survivor who was 101 at the time, was in need of full-time care in his home of 55 years. When Lali came, I cannot tell you how deeply she impressed us. Lali carries an air of sensitivity, instinct, knowledge, and caring that I truly believe is unsurpassable. I know that she cared for her own mother in her home country for several years, and although she'd had a successful career and excellent university education prior to that, she found her calling in caring for others, particularly the elderly. My father lit up under Lali's care. She is a wonderful and inventive, and a very healthy cook. She goes above and beyond at every turn, and she has the warmest smile and sense of humor. My father and my whole family loved her. She makes quick and wise decisions when necessary and her company was so enjoyable both for my father and for me. I spent one week a month visiting and living in the house during her tenure with our family. Sadly, my father passed away in January 2016, at the age of 102. I am eternally grateful for Lali's service to our family. I live out of state and manage a company where I deal with countless people, and Lali stands out to me as one of the most remarkable women I have ever met.
- Margrit P., California
Specialities
Alzheimer's
Cancer
Cardiac Condition
Catheter
Dementia
Depression
Diabetes
Feeding Tube
Hospice
Hoyer Lift
Mental Illness
Mobility
Parkinson's
Stroke
Wounds
Dietary Specialities
Diabetic
Feeding Tube
Liquid
Low-fat
No Salt
Puree
Vegan
Degrees & Certificates
Bachelor's in Nursing, Orbi Medical College, Republic of Georgia
Home Health Aide, Licensed
Transportation to Job
Can Drive: Yes
Public Transportation: Yes
Car: No
Ready For Your
Free

Consultation?
CALL
Hours: 8am - 6pm x 7 days
(and after hours if you need us)
Serving Metro New York & Connecticut