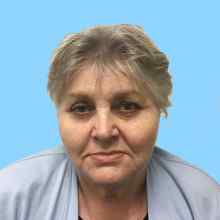 About Me
I was born and raised in the Republic of Georgia. I have a bachelor's degree in economics and I worked as an economist before moving to the United States in 1998. When I moved here, my degree did not qualify in the United States, so I a friend introduced me to caregiving and since then I've never looked to do any other career. I love to take care of people. I have never had any problems with my clients. In fact, I always have a good relationship with my clients. I love to cook and help with housekeeping. I'm family oriented, and I like dogs and cats. I also love to crochet.
Recommendations
I highly recommend Laura to any family who may need a caregiver for their own family member. Laura began taking care of my mother in October 2015 through May 2016. My mother was in need of full-time care following major surgery which required a long hospitalization and many weeks in a rehabilitation facility. When my mother returned home, she was not able to take care of her personal care, do any of her usual activities of daily living, prepare meals, or even get around safely in her home environment. While caring for my mother, Laura performed a variety of daily activities. She assisted my mother with bathing, dressing, preparing, and serving meals and administering medications. She took my mother for walks around the neighborhood frequently, weather permitting, to allow her to get fresh air and exercise regularly. She took care of the laundry as well as changing linens. Laura immediately assessed all my mother's needs and provided care for her in a very kind and conscientious manner. She tended to every need, was extremely vigilant and reported to my family every detail of my mother's activities and progress. Laura was a wonderful companion for my mother, and she spent time in conversation with her to help keep her mind as sharp as possible. During the time she was with us, we felt that she was a member of the family. I highly recommend Laura for a position as a caregiver. She is extremely compassionate and completely trustworthy. I am confident that you will be as happy with her work as we were.
- Jody J., New York
Laura took care of my beloved husband from around 2010-2014, when he died after suffering from Parkinson's. Laura became a cherished member of our family because of her kindness and her competence. At the time, we could not imagine our household without her presence. Laura is a gift to anyone who needs help, care, and support. She has our unqualified recommendation as an honorable and exemplary caretaker.
- Cecile S., New York
Laura was, in a word, my mother's "angel." Perfectly reliable, always upbeat, loving and gentle and at the same time assertive and competent in both physical and emotional care. My mother was dependent on Laura in every situation. My mother had a stroke and lost the use of her arms. She was hospitalized several times during Laura's tenure. Laura stayed with us in emergency rooms and entire nights at the hospital. She was holding my mother's hand when my mother left us. Laura is meticulous as well as lovely. You won't regret hiring this angel.
- Marlene K., Connecticut
Work Locations
Manhattan
Brooklyn
Bronx
Queens
Nassau
Westchester
Rockland
Northern New Jersey
Central New Jersey
Southern Connecticut
Specialities
Alzheimer's
Blind
Cardiac Condition
Dementia
Depression
Diabetes
Feeding Tube
Hoyer Lift
Mental Illness
Mobility
Oxygen
Parkinson's
Stroke
Dietary Specialities
Diabetic
Gluten Free
Liquid
Low-fat
No Salt
Puree
Vegetarian
Degrees & Certificates
Bachelor's in Economics, Tbilisi State University, Republic of Georgia
Home Health Aide, Licensed
Transportation to Job
Can Drive: No
Public Transportation: Yes
Car: No
Ready For Your
Free

Consultation?
CALL
Hours: 8am - 6pm x 7 days
(and after hours if you need us)
Serving Metro New York & Connecticut