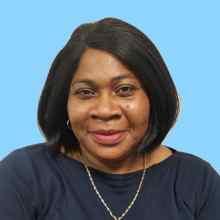 About Me
My mother had early stages of dementia and we were not aware it was dementia and we did not know how to take care of her at the time. It was hard giving her the help she needed. When I moved to the United states, I decided to take classes to become a home health aide to broaden my knowledge on how to care for the elderly. My mother passed on before I could take care of her using the skills I newly acquired. In remembrance of my mother, I decided to take care of those in need he one. I love working with the elderly, and enjoy their company and also enjoy hearing their life stories -- it's truly inspirational. I get to go out with my clients and learn new things from them. I am fun to be around. I try to help my clients as much as I can. I always involve my clients in the kind of service I provide them because they need to have a voice. I am very helpful and I do almost anything my client asks. When I'm not working, I enjoy reading a good book. I like to travel to places whenever I can and I also enjoy cooking.
Recommendations
Judy has been taking care of my daughter for a while. My daughter is 41 and has MS. She now uses a wheelchair and needs help with walking. I know when Judy comes, I am able to leave my daughter with her and take care of my errands because Judy gets things done. She's always on time. She makes my daughter food, cleans the house, and helps with dressing and bathing. My daughter now requires bed baths and Judy helps with that. We've had our fair share of not-so-good aides, but Judy is extremely dependable and we love her. She's a very good person to have around and help you out if you need it.
- Ethel Q., New York
Judy has been taking care of my wife since she came home from the nursing home in 2016. (It's currently September 2018). My wife is basically bedridden and has dementia. Judy comes to our home once a week for a 12-hour shift to help out around the house. She feeds my wife, bathes her, changes her diaper, and performs other household duties. I provide my wife with her medications. Judy is great and very trustworthy. We really love having her help and appreciate what she does for us. I would definitely recommend her to others.
- James W., New York
Specialities
Advanced Dementia
Alzheimer's
Bipolar
Blind
Cancer
Catheter
Dementia
Diabetes
Feeding Tube
Hospice
Hoyer Lift
Mobility
Multiple Sclerosis
Paralysis
Parkinson's
Stroke
Degrees & Certificates
Home Health Aide, Licensed
Transportation to Job
Can Drive: No
Public Transportation: Yes
Car: No