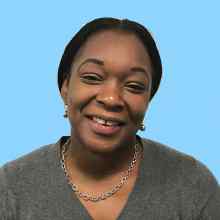 About Me
I like giving care to people and I like to make my clients feel special. I like to see their smiles when I comfort them. I always make sure my client is comfortable and that I meet their needs. I'm a funny person, very cheerful, understanding, respectful, and easy going, and I try to please others as much as possible. My clients enjoy being with me. I manage people's care very well. I treat my client like a family member, and I show them special love and care. I enjoy reading and listening to music. I like going on trips and traveling. I'm a very hardworking person, and I love what I do.
Recommendations
My mother moved into a facility around March 2017 and Teena is one of her caregivers there. My mom has Alzheimer's and Teena has made this journey a little bit easier for us. She is always professional and goes above and beyond her duties. What really stands out about Teena is that she is a person who cares. She would be an asset to anyone who is looking to hire her.
- Maurice G., New York
Teena took care of me after my accident. I was on oxygen and needed extra support. She would drive me to my doctor appointments, clean my house, and run errands for me. She was reliable and always on time. When she wasn't with me, she would call and check up on me. I would highly recommend her for a caregiving job.
- Silvia B., New York
Work Experience
Center for Developmentally Disabled
Work Locations
Manhattan
Bronx
Westchester
Specialities
Alcohol or Drug Dependency
Alzheimer's
Blind
Cancer
Catheter
Colostomy
Dementia
Depression
Developmentally Disabled Adults
Diabetes
Feeding Tube
Hospice
Hoyer Lift
Mental Illness
Mobility
Multiple Sclerosis
Oxygen
Paralysis
Parkinson's
Stroke
Wounds
Degrees & Certificates
Certified Nurse Aide/Assistant, Licensed
Transportation to Job
Can Drive: Yes
Public Transportation: No
Car: Yes