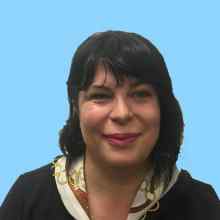 Live-in: $300 - $300 / day
About Me
Back in my country, the Republic of Georgia, I worked as a journalist, but when I came to the United States I decided to have a second profession and started to learn about careers in healthcare. I had some prior knowledge in this area from caring for my grandmother in Georgia when she broke her hip, and it was interesting to me to learn about the kind of programs and treatments people receive here. I eventually decided to become a caregiver in 2010. I treat my patients like they are part of my family. I am a very outgoing person and like being active. I like difficult things and challenges and I try my best to find a solution or make them easier. I ensure that the people around me are comfortable and happy, and that makes me happy. I am a very caring person and whatever I do, it comes from my heart. I'm very motivated, organized, and responsible, and I'm a warm-hearted person with good manners and judgment. Most of my past clients describe me as a fantastic professional, great cook, and a very nice companion who shares and gives emotional support. They would also say I am smart and clever, loyal, trustworthy, and an angel without wings. I am able to become a very reliable friend very quickly and find that people trust me and feel safe with me. I have a good sense of awareness about what my client needs. Sometimes my clients don't know what they want or what to do, but when I can guess and provide that need, they are happy. I enjoy art, drawing, watching movies, and discussing politics or shows and movies with my clients. My hobbies are reading books about life, the arts, and famous people. I also love to travel and discover new places.
Recommendations
I warmly recommend Tea, who cared for my elderly mother for five years until she died in June 2019. In 2014, my mother was 85 years old and it was becoming hard for her to manage daily life tasks purely on her own. Tea moved into her apartment and started helping her with shopping, cooking, laundry, managing medications, reminding her of appointments, making reservations, and accompanying her to medical visits, on walks, and to museums and performances. Tea also encouraged my mother to see her friends and helped her to do so. The truth is that my mother did not wish to have a full-time, live-in personal care assistant, but Tea did so much to enhance the quality of her life and increase her ability to do the things she enjoyed doing (like going to operas and movies, having meals out with friends, attending religious services, and visiting museums and galleries) that my mother quickly came to appreciate Tea, and we, her children, were glad to see that mom was eating well again and to know that she was being well cared for at all times. On a number of occasions my mother was admitted to the hospital, and I saw how Tea stayed by her, advocated for her with hospital staff, and watching over her to ensure that she received appropriate care. Tea communicates in English effectively. Over the years, my mother's needs for assistance increased, and Tea was able to meet them. She helped my mother with bathing, dressing, housecleaning, measuring blood pressure, and using a walker and later a wheelchair to continue to go on outings and walks. She called my mother's friends herself to arrange their outings and visits. She was much more than a caretaker; she was my mother's true friend. My mother trusted Tea and was happy to be with her. Toward the end of her life, my mother could talk only with difficulty, and I saw how Tea routinely intuited her unspoken needs that no one else could decipher. Tea enabled my mother to continue to live in her own apartment, where she wanted to be, until the very end of her life. She cared for her with intense consideration, sound judgment, and genuine lovingkindness. I myself came to keenly respect Tea's intelligence and to rely on her judgment about what would be best for my mother's comfort and health. There is no doubt in my mind that Tea enabled my mother to live considerably longer, and with a much higher quality of life, than she would have without her. In short, Tea is a uniquely gifted, intelligent, strong, steady, and capable home health aide/personal care assistant. I have seen her perform in a wide range of contexts and can attest that she is a person of character and integrity. In stressful situations, she maintains a positive attitude and functions constructively and effectively. But she is also forthright, genuine, warm and full of feeling. She is a person of substance who works impressively hard to support her family. I cannot recommend Tea highly enough. I think it would be hard or maybe impossible to find another like her. Her care for my mother was a gift to mom and to our whole family.
- Ira B., Virginia
Tea was my father's summer 24/7 live-in caregiver in 2013. My father had dementia, and needed live-in care after returning home from rehab. My father was always happy to see Tea, and she was always very sweet to him. Tea was very flexible when it came to her duties with my father; she always had a positive attitude, and was always professional and kind. Tea is beautiful inside and out, and she was always smiling when we would see her. My father was my best friend, and it made me happy to see him happy. I know that Tea and my father were on the same page, because Tea would communicate with me and my father verbalized the same things. She was his constant companion, and went out of her way to ensure that my father would enjoy what he was doing at the time. Anyone considering hiring Tea would find her to be very responsible and easy to work with. She proved time and time again how reliable and trustworthy she could be and I recommend her without hesitation.
- Suzanne, New York
Work Locations
Manhattan
Brooklyn
Nassau
Westchester
Specialities
Advanced Dementia
Alcohol or Drug Dependency
Alzheimer's
Blind
Brain Injury
Cancer
Cardiac Condition
Deaf
Dementia
Depression
Diabetes
Hospice
Mobility
Multiple Sclerosis
Oxygen
Paralysis
Parkinson's
Stroke
Wounds
Dietary Specialities
Diabetic
Gluten Free
Kosher
Liquid
Low-fat
No Salt
Puree
Vegan
Vegetarian
Degrees & Certificates
Bachelor's in Journalism, Georgian State University, Republic of Georgia
Home Health Aide, Licensed
Transportation to Job
Can Drive: Yes
Public Transportation: Yes
Car: No
Ready For Your
Free

Consultation?
CALL
Hours: 8am - 6pm x 7 days
(and after hours if you need us)
Serving Metro New York & Connecticut