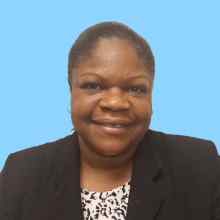 About Me
I enjoy helping and working with the elderly. I have been working in this field for a while and I have a lot of experience. I am a hardworking, assertive, industrious, and a committed individual who uses skills and talents to support my clients. I believe my caring personality, along with my excellent human relations and social skills, would definitely prove to be an assert to my client. I am capable of working alone when caring for my client or involve them and make changes to suit their needs. I take care of my clients as if they were my family. I am a reliable person, and I take my job very seriously and I try to do everything to the best of my ability. For fun, I love to listen to soft music and I love to watch tennis.
Recommendations
I am a physician's assistant and I worked with Martine from 2017-November 2018 in a very busy, inner city cardiovascular center. Martine's position at the center is a patient care assistant. What I love about Martine is how sharp she is and she's very fast at picking things up. She's like a worker bee and has great common sense and great patient centered care. She once even saved someone's life because she was able to notice they were showing signs of decline and immediately notified the staff to intervene. Martine takes vital signs for the patients and really just assists with anything else we need, she basically functions like a nurse. She shows initiative and always puts her patient first. If I ran my own clinic, I would definitely want to hire Martine to work there. You won't regret working with her.
- Caroline G., New York
Martine works at a cardiovascular center as a patient care assistant. I was her nurse supervisor for many years. She was always friendly, hard working, attentive, and carried out all of her tasks. Martine listened carefully to all the instructions the nurses gave her. She had a good relationship with both the staff and her patients. Her patients always looked forward to seeing her. Anyone who hires her will be happy. I would recommend her highly.
- Kenny D., New York
Work Locations
Manhattan
Bronx
Brooklyn
Queens
Specialities
Advanced Dementia
Alcohol or Drug Dependency
Alzheimer's
Bipolar
Blind
Brain Injury
Cancer
Cardiac Condition
Catheter
Colostomy
Dementia
Depression
Diabetes
Feeding Tube
Hospice
Hoyer Lift
Mobility
Multiple Sclerosis
Newborns
Oxygen
Paralysis
Parkinson's
Stroke
Trach
Dietary Specialities
Diabetic
Feeding Tube
Kosher
No Salt
Puree
Vegetarian
Degrees & Certificates
Certified Patient Care Technician
Certified Phlebotomy and EKG Technician
Transportation to Job
Can Drive: Yes
Public Transportation: Yes
Car: No