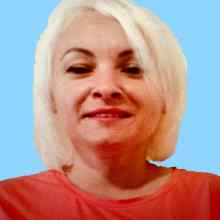 About Me
I am from the Republic of Georgia and have been a caregiver in the United States since 2016. I became inspired to make caregiving my profession, because as a child, I helped care for my grandparents who had health issues. Caring for elderly people came naturally to me, and I saw my grandparents happy with the help I provided them. When I first arrived in the United States, I gravitated to working with the elderly, and was excited that I could make them happy the way I did for my grandparents. I have cared for individuals with diabetes, cardiac conditions, paralysis and other mobility issues, stroke, and other age-related difficulties. For example, a past live-in client of mine was bedridden and couldn't sit up for more than 10 or 15 minutes. She suffered from strokes, had cardiac issues, bladder infections, and a host of other challenges. She was hospitalized frequently, and I would sit with her so the family could take care of other things. When my client returned home, she wanted to experience fresh air. No one else in the house could manage it, but I lifted her on my own because she did not like using the Hoyer lift. I would put her in her wheelchair, and take her to the swimming pool on her property. She truly appreciated what I did for her and loved spending time in the sun. We would also watch old movies and sing songs from the past together. It was a pleasure to make her day as enjoyable as possible, and I was very sad when she passed. Her family members would say how much they appreciated the level of care I gave their loved one and we stay in touch to this day. I describe myself as someone who goes the extra mile and puts my heart and soul into the care I give to my clients. I stand out from other caregivers because I treat my clients as my own family members. When I am not working, I like watching TV and am very interested in current events. I also do embroidery and needlework.
Recommendations
It is a difficult thing to see your mother, who was always strong, healthy, active, and independent become increasingly weak and dependent. It is also difficult to find a home care aide who will provide your mother with all the help she needs, and even more difficult to find one who will do all the required work with respect and a loving heart. Luckily for our mother, Tea came to care for her for the last three years of her life, from approximately May 2017 through February 2020. She was our mother's ninth and final aide. Tea was there for her as she declined from using her walker, to needing a wheelchair, to become bedridden. Tea washed her, dressed her, and fed her three home-cooked meals every day during several trying hospital stays. Tea knew better than the nurses how to handle her fragile body. Throughout her tenure, Tea always kept our family informed of any new developments and always respect our wishes. But her excellent care of our mother's physical needs was only a part of what Tea did for her. Right from the start, Tea lifted our mom's spirit. She sang to her, found great old movies for her to watch, gave her manicures, exercised with her, took her out for time in the sun (mom's favorite) and even baked and decorated cakes for her last three birthdays. Tea handled all her difficult tasks -- whether mom was being cooperative or ornery -- with patience, respect and love. Tea has become a dear friend to us and we miss her tremendously. We highly recommend Tea to any family who needs help.
- Kathleen B., New York
Tea was my mother's 24/7 live-in caregiver from December 2016 through May 2017. My mother had suffered a mini-stroke (TIA) and needed assistance with personal care, light housekeeping, and meal preparation. My mother also had trouble balancing and ambulating. Tea was right by her side as she helped her gain her strength and balance back. Mom also was affected by panic attacks and depression. Tea's calming, patient demeanor gave mom the courage to feel more comfortable in her surroundings and to retry the things she once loved, such as watching old movies and singing songs. At the time Tea was with my mother, I lived minutes away, and was at my mother's house often. I was very pleased each and every time I stopped by, and I felt that Tea treated my mother like she would her own family members. I absolutely recommend Tea as a caregiver and know that whoever brings her in to care for their family member will not be disappointed.
- George G., New York
Work Locations
Manhattan
Brooklyn
Westchester
Specialities
Blind
Cancer
Cardiac Condition
Catheter
Dementia
Diabetes
Hospice
Hoyer Lift
Mobility
Paralysis
Parkinson's
Stroke
Wounds
Dietary Specialities
Diabetic
Gluten Free
Liquid
Low-fat
No Salt
Puree
Degrees & Certificates
Bachelor's in Foreign Languages, Georgian University, Republic of Georgia
Home Health Aide, Licensed
Transportation to Job
Can Drive: Yes
Public Transportation: Yes
Car: No
Ready For Your
Free

Consultation?
CALL
Hours: 8am - 6pm x 7 days
(and after hours if you need us)
Serving Metro New York & Connecticut