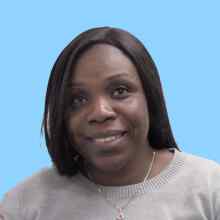 About Me
I love working with the elderly and I'm very compassionate. When one ages, they tend to be vulnerable, and this is the time when they need the most attention and care, which I am available to provide. I love this job because I tend to be a helping hand and a shoulder to lean on in times of need. I am also content and filled with joy knowing that my client is living a comfortable and happy life due to the services I provide. I am compassionate and empathetic. I am responsible and I do my tasks efficiently. I like to have conversations with my clients so that they are never bored. I am dedicated, loving, caring, and very honest. My hobbies include cooking, reading, and watching movies.
Recommendations
Sandra lived with my mother for almost five years, from November 2013 until her death in September 2018. My mother was elderly and frail. Really, she just needed light help, but I felt much more comfortable knowing that mom wasn't alone in her home. Sandra came for the interview and I felt a real connection with her, and so did mom. My mother loved to talk and she liked to go out, but she was aware that she couldn't do what she used to do. Sandra kept her positive and upbeat and made her feel alive. They went out whenever possible and Sandra sent me pictures and videos of their excursions. She became part of our family and we enjoyed learning about her culture. It gave me great comfort to know that Sandra was with mom, and if she is available when I am old, I would definitely hire her to come care for me.
- Amanda W., New York
Sandra lived with my mother from February 2010 until December 2011. Mom had three spinal surgeries and my dad, sister, and I had to work, so we weren't able to give her the care she needed. We hired Sandra and found her to be sweet and loving. Her responsibilities included making breakfast and lunch, medication reminders, laundry, and wound care. Sandra knew that not every day of recovery was going to be a great day and she had a way about her that was patient, respectful, and encouraging to mom. Eventually, my mother recovered and we no longer needed Sandra's help.
- Kezia H., Kentucky
Work Experience
Private Client, LeanOnWe Customer
Work Locations
Manhattan
Brooklyn
Westchester
Bronx
Staten Island
Queens
Nassau
Northern New Jersey
Southern Connecticut
Specialities
Advanced Dementia
Alzheimer's
Cancer
Cardiac Condition
Catheter
Dementia
Diabetes
Hospice
Mobility
Oxygen
Paralysis
Stroke
Dietary Specialities
Diabetic
Gluten Free
Liquid
Low-fat
No Salt
Puree
Vegan
Vegetarian
Degrees & Certificates
Home Health Aide, Licensed
Transportation to Job
Can Drive: No
Public Transportation: Yes
Car: No
Ready For Your
Free

Consultation?
CALL
Hours: 8am - 6pm x 7 days
(and after hours if you need us)
Serving Metro New York & Connecticut