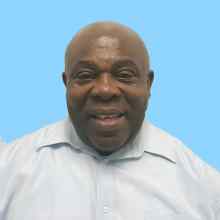 About Me
I like to take care of people. I cook for people, feed them, wash them, clean their house, help with transferring them if they cannot lift themselves, and anything else they need. I'm very strong so I can do a lot of transfers. I'm very caring and I'm always willing to help. I like to make my clients feel comfortable and I'm always smiling. My clients like the way I work. I can also play games with my client or sit down and watch TV together. I drive my clients wherever they want to go. In my spare time, I like to do yard work, watch TV, and cook for my family.
Recommendations
My husband has leukemia and Rudley was his caregiver from January 2017 until May 2018, when he was hospitalized for a long period of time. Rudley had been working with my husband 5 days a week while I was at work. He was reliable, dependable, and trustworthy and my husband liked having him around. When my husband would get depressed about his illness, Rudley was excellent at comforting him and giving him pep talks. I know that Rudley gave good care. He prepared meals, helped my husband shower and dress, and gave him lots of TLC. I'm happy to recommend Rudley as a caregiver.
- Donette M., New York
I am the director of housekeeping at at Rehab Facility and have been working with Rudley for about a year, though he has been at the facility for four years, since 2014. He is a great worker and provides excellent customer service. He is a very positive person. Rudley is always smiling and everyone knows him and loves him. He talks to the clients and notices when things need to be done, even when it's outside his area of responsibility. Rudley is always on time for work and is reliable and responsible. He volunteers for extra work and is a motivated employee.
- Tyronne T., Supervisor, New York
Work Experience
Housekeeping, Rehab Center
Cook, Assisted Living Facility
Work Locations
Manhattan
Rockland
Northern New Jersey
Specialities
Advanced Dementia
Alcohol or Drug Dependency
Alzheimer's
Bipolar
Blind
Cancer
Deaf
Dementia
Depression
Developmentally Disabled Adults
Diabetes
Hospice
Hoyer Lift
Mental Illness
Mobility
Multiple Sclerosis
Paralysis
Parkinson's
Special Needs Children
Wounds
Dietary Specialities
Diabetic
Gluten Free
Halal
Kosher
Liquid
Low-fat
No Salt
Puree
Vegan
Vegetarian
Transportation to Job
Can Drive: Yes
Public Transportation: No
Car: Yes
Ready For Your
Free

Consultation?
CALL
Hours: 8am - 6pm x 7 days
(and after hours if you need us)
Serving Metro New York & Connecticut