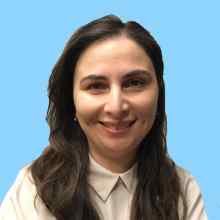 About Me
I worked in an emergency room as a nurse in the Republic of Georgia and I took care of patients after surgery. I've always had a passion to take care of people. I consider myself similar to a private nurse when I'm taking care of my clients, since caregiving is very close to my profession. I'm extremely caring, and I love to help people in need. It's amazing to be a caregiver, and I'm very proud of the work that I've done. It's a big deal to care for a human life and I feel honored to be there for my clients. I'm very respectful, flexible, and professional. I know what to do in difficult or emergency situations, and I succeed at making logical decisions. I'm able to use different medical machines and help diabetic clients. For fun, I love to go on the internet, watch TV, and movies. I enjoy reading and listening to music. I also love to be outdoors.
Recommendations
It is my pleasure to recommend Natia as a caregiver. Natia is a compassionate, responsible, and extremely trustworthy woman who took exceptional care of my grandmother for three and a half years. In the winter of 2015, my husband and I decided to move in with my grandmother, who was living alone at 94 with progressive dementia. After she had a fall and cracked a vertebrae, our family decided that my grandmother needed full-time care while my husband and I went to work during the week, so we hired Natia. We immediately felt very comfortable with her during the interview and her references had nothing but wonderful things to say about her. Natia was not only willing to start working with our family right away, but she was willing to move into my grandmother's home to live with not only her, but my husband and me. Natia tremendously enhanced the quality of my grandmother's life in her final years. My grandmother was a kind woman, but she had a sharp tongue at times and was adverse to the idea of having a caretaker. Natia was not only able to win my grandmother's trust and affection, but she also made a huge effort to maximize the amount of joy in my grandmother's life. For example, my grandmother loved the singers Tony Bennett and Frank Sinatra, so Natia would play their music for her and encourage her to continue activities that she once took pride in, like cooking. She never made my grandmother feel inferior, but instead encouraged her to make decisions about the day, and let her feel "in charge" of her own life. I think it's also very important to note that Natia has experience in the field of nursing. She would attend every doctor appointment with my grandmother and took her medical care very seriously. She helped with medications, taking her blood pressure, and identifying potential contraindications with over-the-counter medications. I can honestly say that our family was very comfortable putting our grandmother in Natia's hands. The end of my grandmother's life was full of compassionate care, kindness, laughter, and true companionship because of Natia. I recommend her for any job that requires the care of a loved one.
- Kathryn D., California
Natia cared for my mother for over five years until she passed in 2015 at the age of 93. She provided an exceptional level of physical care and I am pleased to recommend her. My mother was bedridden due to spinal stenosis, yet she never had a bedsore and always looked her best. Natia assisted her in physical therapy and went above and beyond the call of duty to assure that my mother had a healthy diet. My mother was a picky eater, so she and I taught Natia some of her favorite recipes. I ate many meals when I visited and I know she is a wonderful cook. Natia also helped with medications. There was always money in the house and I never had reason to worry because Natia is scrupulously honest. Natia also performed the duties of a housekeeper. She kept the house in a way that my mother was always proud to receive guests. My sister and I both lived out of state, and Natia kept us fully informed about our mother's health and her needs. My mother was mentally in great shape until the last few months before she died, and she wasn't the easiest person to be around. She was very frustrated that she wasn't mobile and she took it out on those around her. Natia was always very, very patient with her. Also, though Natia is a small person, my mother was not a lightweight, but Natia never had an issue with transferring her. In summary, Natia is smart, kind, hardworking, and compassionate. You can have total confidence in her ability to provide the highest level of care.
- Cathy M., Washington, DC
Work Locations
Northern New Jersey
Manhattan
Westchester
Specialities
Alzheimer's
Cancer
Cardiac Condition
Dementia
Diabetes
Multiple Sclerosis
Oxygen
Parkinson's
Stroke
Degrees & Certificates
Associate's in Nursing, Tbilisi Medical College, Republic of Georgia
Home Health Aide, Licensed
Transportation to Job
Can Drive: No
Public Transportation: Yes
Car: No
Ready For Your
Free

Consultation?
CALL
Hours: 8am - 6pm x 7 days
(and after hours if you need us)
Serving Metro New York & Connecticut