Day One at Assisted Living – Five Smart Moves For Move-in Day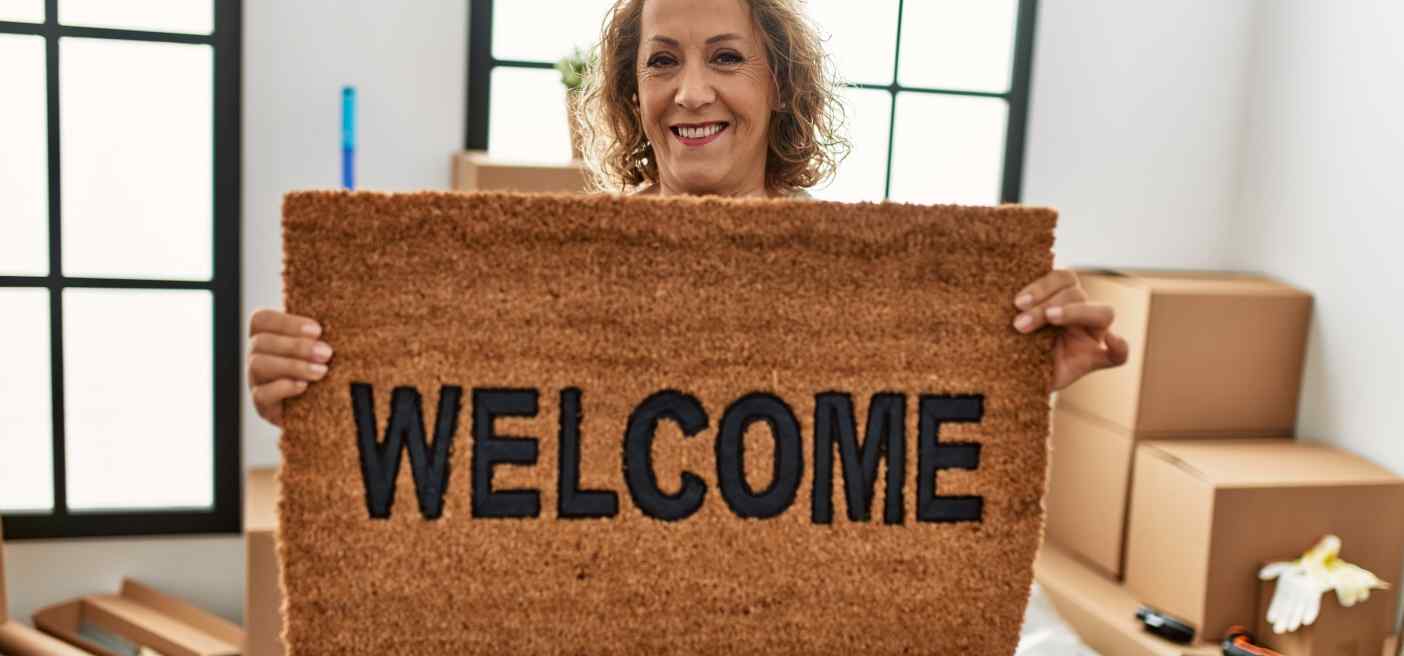 Making the transition from home to an assisted living community can be difficult for both you and your loved one. Many older adults are resistant to leaving their homes and the thought of getting settled and comfortable in a new environment can be daunting for all involved.
Your loved one has been a responsible and independent adult for years, and the move to assisted living may feel like they are giving up or losing control of their independence.
The transition will take time, so don't be surprised if the first days and months are difficult. Work with the staff during the process – they've been through this before and know the drill. They may be able to help in ways that you have not considered and they may also be able to help your loved one in ways that you cannot.
Don't Wait to Decorate
When it comes to setting up their living space with furniture and cherished belongings, make it a priority to have it done before move-in day.
Having your loved one present for the chaos during move-in is not fun for anyone. Imagine a calm and stress-free moment when they arrive on Day One and everything is set-up in a beautifully furnished space.
Arrange with the staff to have the bed made and the cable and phone service activated. An important part of furnishing your loved one's room is making sure it is not cluttered as too much furniture can quickly become a safety concern. Pick meaningful items from their home and incorporate them to complete the decorating.
Start the Day with Lunch
On the first day, plan on arriving just prior to lunch and staying until dinner. This will allow for a good part of the day to settle in – with your support.
Inform the community of your arrival time so they can roll out the red carpet and be on hand for a hardy welcome and lots of introductions. They you'll go to the new apartment and perhaps relax for a little before lunch.
Be sure to request a "welcome lunch" from the community and invite family and friends to join and mark this first day of a new journey.
As the day winds down, escort your loved one to the dining room, say goodbye, and then make your exit. Be prepared for a flood of emotions, but be proud that you have taken this step that will eventually bring peace of mind.
Paying a Visit
Another important question is, "When should I visit?"
It's important to find a balance between continuing to be an important presence in their lives while giving them time to acclimate to the community and discover the resources that it has to offer. Some senior living experts say it takes 3 to 6 months for a resident to settle in, and in trying moments, it helps to remind yourself that you made this choice so your loved one will be safe and cared for.
Once you decide when and how often to visit, the next question is, "How do I visit?"
Again, use the resources that the community offers to help you. Take a look at the activities calendar and plan your visits around the live entertainment, or if you and mom had a standing manicure appointment on Tuesdays and she is still able to go, keep your routine.
You're Both in the Transition Zone
When you visit in the early weeks, be prepared to hear complaints or worries, and listen and acknowledge their feelings. Remind them that once they settle in, develop a routine, and recognize familiar faces as friends, they may feel differently.
That being said, family members will have to adjust as well.
There will likely be moments of doubt and guilt surrounding the move. Trust takes time to build. You have the right to be your loved one's advocate, and get to know the staff and reach out to them with any questions or concerns. They understand this is also a transition for the family and will offer you the support you need and deserve.
If either you or your loved one is having an exceptionally difficult time with the transition and the emotions that come with it, seek outside help. Many communities have support groups or a talk therapist who can help guide you. Sometimes it takes someone with an outside perspective to offer advice and help you look towards the future, rather than dwelling on the past.
Yes, Know Boundaries
And last but not least, make sure you set boundaries with your loved one.
While you are always a text or phone call away, an assisted living community is full of resources designed to help residents maintain their independence and improve their quality of life. Help them learn to reach out to the professionals on staff with health issues or day-to-day concerns
Within time and some forethought, both family members and the new assisted living resident will see the value of joining a community unfold. The friendships, activities, care services, and amenities are sure to add gold to their golden years.